A Head Full of Ghosts book review
By Leroy Douresseaux
Dec 29, 2015 - 21:17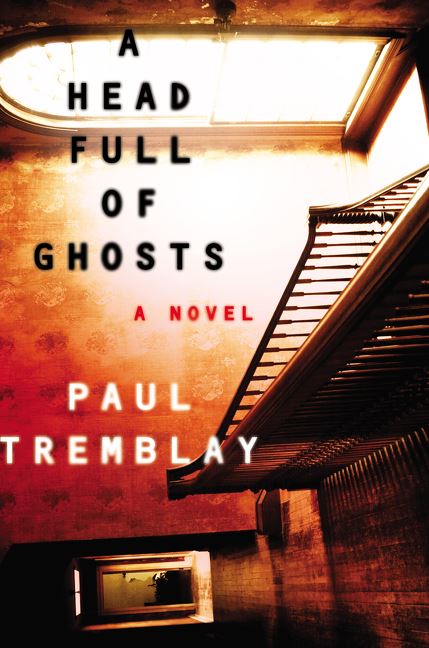 A Head Full of Ghosts cover image
A Head Full of Ghosts
is the most recent novel from author
Paul Tremblay
. The novel focuses on a family that must face the possible demonic possession of one of the children.
The Barretts
live in the typical New England suburb of Beverly, Massachusetts. However, they are not the normal suburban New England family. This family is slowly being torn apart because 14-year-old
Marjorie Barrett
is showing signs of acute schizophrenia. The mother,
Sarah Barrett
, believes in psychiatry, but that seems to have little affect on Marjorie, whose bizarre behavior is only getting worse and even dangerous.
The father,
John Barrett
, unemployed for a year, has come to believe that Marjorie is possessed, and a local Catholic priest suggests that Marjorie may be in need of an exorcism. Watching it all is eight-year-old
Meredith "Merry" Barrett
. Fifteen years later, 23-year-old Meredith is collaborating with best-selling author,
Rachel Neville
, on a non-fiction book about that time. Now, this recollection of that time will pit the the fog of memory against the horror of reality.
THE LOWDOWN:
An easy way to judge if I not only really like a book, but also if I have warmed to it is if I am jealous that I did not write that book. I am not jealous of Paul Tremblay for writing
A Head Full of Ghosts
. I love that title, and the book is imaginative in its conception. Ultimately, it is too clever and too cool in its storytelling.
I think eight-year-old Meredith "Merry" Barrett is an excellent narrator. Her voice captures the inventiveness of the stories the two sisters tell each other, but that voice is drowned out by the cacophony and "shocking reveals" of the last six chapters. That is the point in which
A Head Full of Ghosts
transforms from a scary story into an overwrought domestic drama where true crime meets family soap opera. It is not a pretty union.
For most of
A Head Full of Ghosts
, the narrative balances the mystery of Marjorie's condition – demonic possession or mental illness. Merry's tale paints a picture of a haunted house and of a haunted family, and this tale is both imaginative and chilling. That does not last to the last page. The final section of this book is like taking a Guillermo del Toro film and tacking on an ending from an episode of "Criminal Minds" or "Law & Order."
But this is what I'd expect from a novel that is described as being about "the very nature of evil."
A Head Full of Ghost
is skillfully written and, at times, it is an engrossing read. It is not at all a bad piece writing; it simply betrays its wonderful ghost story. In the end, the ghosts are not supernatural, they're just dreary dregs of reality.
POSSIBLE AUDIENCE:
Readers looking for modern Gothic may want to try
A Head Full of Ghosts
.
Rating: B /10
Support this writer on Patreon
Last Updated: Jun 26, 2018 - 9:28