Console Wars book review

By Leroy Douresseaux
Oct 6, 2015 - 11:39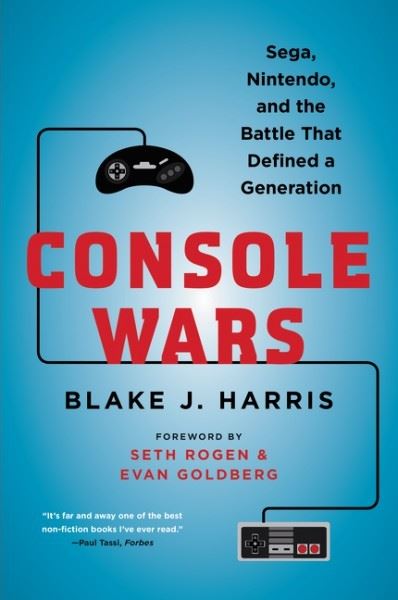 Console Wars cover image
Foreword by Seth Rogen and Evan Goldberg
Console Wars: Sega, Nintendo, and the Battle That Defined a Generation
is a non-fiction book written by
Blake J. Harris
. The book was originally published in hardcover by It Books, and in June of this year, Dey St. (an imprint of William Morrow) published a paperback edition of the book.
Console Wars
is a real-life David-and-Goliath tale that recounts how
Sega
, a scrappy upstart, took on
Nintendo
, the market leader, for domination of the videogame industry. In 1990, Sega was merely a faltering arcade company. Nintendo of America (NOA) was the unmatched industry leader, controlling 90 percent of the videogame market in America.
Enter
Tom Kalinske
. He was once the guiding hand of Barbie at Mattel. In the summer of 1990,
Hayao Nakayama
, boss of
Sega of Japan
(SOJ), hired Kalinske to be President and CEO of Sega of America (SOA). Using bold ideas and out-of-the-box strategies, along with strategic and imaginative hiring practices, Kalinske took SOA from having 5 percent of the American videogame market to 55 percent in less than four years.
However, Kalinske's success created a vicious and bitter rivalry with Nintendo and also an industry war that spread from corporate boardrooms to trade shows; from the airwaves to the living rooms and schoolyards of America; and finally from Congressional chambers to overseas. However, Kalinske's fiercest battlefront was surprisingly closer to home.
THE LOWDOWN:
The total time that I have spent playing video games probably amounts to less than two weeks. However, there is some truth to the notion that the most compelling fiction is non-fiction (although I have read plenty of non-fiction that was non-compelling). You don't have to play videogames to fall under the spell of the true story that is Blake Harris'
Console Wars: Sega, Nintendo, and the Battle That Defined a Generation
.
This is the kind of little-engine-that-could slash underdog slash David vs. Goliath story that has a quality that is both timeless and universal. I found myself rooting for Sega, even knowing how the story of Tom Kalinske's time at Sega resolves itself. There is something about the way Nintendo dominated and bullied the videogame market from the mid-1980s to early 1990s that seems so un-American. On the other hand, there is something about Sega of America's quest to get a fair shot and to perform on a level playing field that is inimitably American. Kalinske's can-do spirit and his ability to gather of team of true believers slash merry band of idiots around him appeals to the small businessman in all of us.
Console Wars
is one of the best non-fiction books that I have ever read, partly because it reads like a summer potboiler. It is a must-read for people who remember Sega vs. Nintendo, yet it is accessible to people who don't remember, who didn't pay attention, or who weren't around. This book also has a clever foreword by the Hollywood film-making team of
Seth Rogen
and
Evan Goldberg
, who are producing (with Scott Rudin) a documentary film based on this book.
POSSIBLE AUDIENCE:
Fans of video games and lovers of great non-fiction books will want to read
Console Wars: Sega, Nintendo, and the Battle That Defined a Generation
.
Support this writer on Patreon
Last Updated: Jun 26, 2018 - 9:28