Rock With Wings book review
By Leroy Douresseaux
May 11, 2015 - 10:47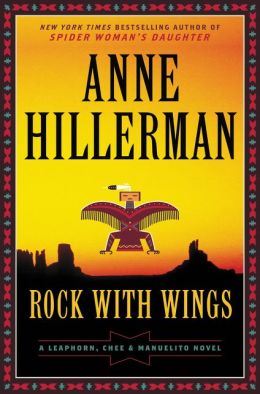 Rock With Wings cover image is courtesy of barnesandnoble.com.
Follow me on
Twitter
.
Rock With Wings
is a new novel from author
Anne Hillerman
. It is the second book in the "Leaphorn, Chee & Manuelito Series," following
Spider Woman's Daughter
(2013). This series is a continuation of the "Joe Leaphorn and Jim Chee Series" written by Hillerman's late father, bestselling author, Tony Hillerman (1925-2008). In the new novel, Navajo Tribal cops, Chee and Manuelito, try to solve two perplexing cases with the assistance of the now-retired Leaphorn.
Rock With Wings
opens as
Navajo Nation Police Officer Bernadette "Bernie" Manuelito
makes a routine traffic stop. The driver,
Michael Miller
, almost immediately begins acting strange, causing Bernie to eventually place Miller under arrest. Then, Bernie is off for a short vacation with her husband, fellow
Navajo Nation Police Officer Jim Chee
, However, two cases will call the couple back from their vacation and separate them. One case is near their home of
Shiprock
, and the other takes place in iconic Monument Valley.
Chee travels to
Monument Valley
, the backdrop for so many famous Western films, where he finds a series of curious incidents involving the filming of the zombie movie, "
The Undead Return
" (TUR). First, one of the film's employees,
Melissa Goldfarb
, is missing. Then, a cold-blooded thug seems to have his hand in many aspects of the movie's production. Also, a mysterious mound of rocks and dirt could be connected to TUR, or it could be the link to many mysteries Chee finds himself facing.
Meanwhile, in Shiprock, Bernie discovers that her arrest of Michael Miller has become a drug bust gone wrong. She also struggles to uncover the origins of a fire in the middle of nowhere. Then, she learns that an out-of-state corporation,
Primal Solar
, has launched an ambitious solar energy development with long-ranging consequences for Navajo land.
With the help of their mentor, retired
Lieutenant Joe Leaphorn
, Bernie and Chee navigate unexpected obstacles and surprising turns of event. They confront separate cases that are connected and not connected in the most surprising ways.
THE LOWDOWN:
I liked the fact that Anne Hillerman's debut work of fiction, Spider Woman's Daughter, focused primarily on Bernie Manuelito. In
Rock With Wings
, Hillerman gives equal time to both Bernie and Chee, but she puts their law enforcement skills and talents on display by putting before each character a different kind of case.
Hillerman gives the readers a chance to know both Chee and Manuelito as she will depict them. That is, of course, a good thing for new readers, but I think Hillerman's longtime readers also need a chance to acclimate to the Navajo Tribal Police, as portrayed by the daughter of the originator. It has been ages since I read my one Tony Hillerman book, so I am eager to get to know the characters.
As for the mystery and crime-solving:
Rock With Wings
becomes more exciting to read as the narrative progresses. There is some violence in this book, but the primary focus is solving the respective cases of Chee and Manuelito. Each case has within it other related sub-plots, or sub-mysteries, if you will. I found myself deeply immersed in the narrative and thoroughly invested in solving every mystery, case, and crime. In that sense,
Rock With Wings
is the pure essence of the whodunit. After reading Spider Woman's Daughter, I was interested in seeing where Anne Hillerman would take her characters. After Rock With Wings, I can't wait for the next book.
POSSIBLE AUDIENCE:
Fans of Tony Hillerman and lovers of good police procedural will want to take flight aboard the
Rock With Wings
.
Rating: 9 /10
Last Updated: August 31, 2023 - 08:12