Trigger Warning book review
By Leroy Douresseaux
May 1, 2015 - 20:21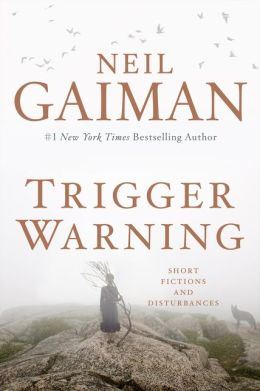 Trigger Warning cover image is courtesy of barnesandnoble.com.
Follow me on
Twitter
.
Trigger Warning
is a recently-published hardcover collection of short stories written by beloved and acclaimed author,
Neil Gaiman
. This is the third major book of Neil Gaiman's short stories, following
Smoke and Mirrors
(1998) and
Fragile Things
(2006).
Trigger Warning
includes a never-before published story set in the world of Gaiman's classic novel,
American Gods
(2001), entitled "Black Dog." There is a Sherlock Holmes story, "The Case of Death and Honey." There is an ode to a beloved author in, "The Man Who Forgot Ray Bradbury." The story "Nothing O'Clock" was written for the 50th anniversary of "Doctor Who." There are more than 20 short stories; plus, there are some poems that can be read even by people who do not like poetry.
THE LOWDOWN:
I have been reading Neil Gaiman for the better part of three decades. When I first read a comic book by Gaiman, I thought, "This guy is really good." His novel,
American Gods: The Tenth Anniversary Edition
(2011), is a kind of Bible to me.
Over all that time, I could not tell you why I liked Gaiman's comics and fiction, other than to say, "This guy is really good." While reading one of Trigger Warning's short stories, "The Thing About Cassandra," it suddenly dawned on. I like Gaiman because he tells me stories. He's a natural storyteller, and I naturally love stories.
I read a lot of prose fiction. I have been entertained by writers who are considered to be part of a "canon." I have read fiction by writers who are beloved, even if they are not considered literary. I have enjoyed fiction by writers who are not that good or have been forgotten, relatively speaking.
I open those books and start reading, and I find myself engaged, absorbed, engrossed, etc., all the while I am transported to other worlds. However, for all the authors that I have read, not all are natural storytellers. When I open a book written by a natural storyteller, it seems as if that author immediately starts telling me a story. Sure, I am engaged in the act of reading, but it seems as if the storyteller is the one who is reading. That author is reading to me, and I am just a listener, enchanted and hypnotized by the words of the storyteller.
I felt myself transported and maybe even trapped in the world of "The Thing About Cassandra." I wanted to run away, but I stayed to listen to the storyteller. Damn, this storyteller Neil Gaiman is really good, I thought. If you want to feel something like what I felt, buy
Trigger Warning
.
POSSIBLE AUDIENCE:
Fans of Neil Gaiman and of short stories will want
Trigger Warning
.
Rating: 9 /10
Support this writer on Patreon
Last Updated: Jun 26, 2018 - 9:28