Blood Infernal book review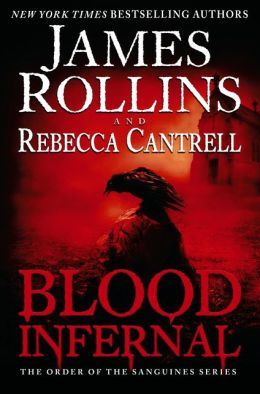 By Leroy Douresseaux
Apr 1, 2015 - 15:01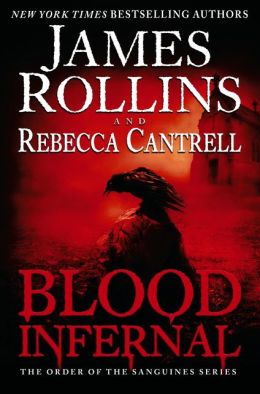 Blood Infernal cover image
Follow me on
Twitter
.
Blood Infernal
is a novel by authors
James Rollins
and
Rebecca Cantrell
. Rollins is the
New York Times
bestselling author of numerous books, including the recent,
The 6th Extinction
. Cantrell is a New York Times bestselling author known for the "Hannah Vogel" mystery series.
Blood Infernal is the third and concluding novel in Rollins and Cantrell's
Order of the Sanguines
series. The novel focuses on three heroes who seek to unravel a supernatural mystery and apocalyptic prophecy. They are on a mission to stop the gates of Hell from opening, an act that will signal the end of humanity.
Early in
Blood Infernal
, an escalating number of grisly murders occur across the globe. Archaeologist
Dr. Erin Granger
knows that she must decipher the immortal prophecy found in the tome said to be written by Christ, the
Blood Gospel
. The shackles of
Lucifer
have been loosened, and the world crumbles as the Apocalypse looms. How can one lone human stand against this?
Erin is not alone. She is the "
Woman of Learning
," one of the prophesied heroes who are supposed to stop Lucifer. There is U.S. Army Sergeant
Jordan Stone
, the "
Warrior of Man
," and F
ather Rhun Korza
, the "
Knight of Christ
." From North Africa to Italy to Hungary to France, this trio chases clues that have come from across centuries, but some of their prizes may already be lost. The forces of darkness have a mysterious new leader, a demon named
Legion
. He has many faces. His reach is beyond measure, and yeah, he really is more powerful than the heroes.
THE LOWDOWN:
I am familiar with James Rollins' name, but before Blood Infernal, I had never read one of his books. Within the last year, I started regularly receiving review copies of books published by HarperCollins imprint, William Morrow, Rollins' publisher. [William Morrow is also Neil Gaiman's publisher, but I will save that for another review.]
Having missed The 6th Extinction, I was anxious to read something by Rollins, so I jumped at the chance to read Blood Infernal when it was offered to reviewers. I must say that I am pleasantly surprised on two fronts. I genuinely enjoyed reading this book, but I had never read anything like it.
Blood Infernal seems like a story that would be the basis of an epic crossover event from Marvel Comics – with the Avengers and Doctor Strange battling the forces of Hell – or from DC Comics – with every member of the Justice League from across time and space battling Darkseid. Blood Infernal seems like a supernatural thriller version of a Tom Cruise Mission: Impossible film. It's The Da Vinci Code married to John Constantine: Hellblazer. [I could do this all day.]
Blood Infernal is a strange beast, but it is a narrative that grabbed me and dragged me along on a mission filled with occult and supernatural madness. Much of the novel is a claustrophobic worldwide chase for clues, which focuses on a few characters at a time. The big battle, with its Industrial Light and Magic/Weta theatrics, is saved for the last act of Blood Infernal.
I will give Blood Infernal the highest praise that I can give it: at $28, it's worth every penny in pure entertainment value. I didn't want it to end, but since it had to, I may have to go back and read the first two volumes of this trilogy, which I, of course, missed the first time around.
POSSIBLE AUDIENCE:
Fans of James Rollins and of Rebecca Cantrell already know to read this, but other readers looking for a good pot boiler will want to grab the suspense thriller and apocalyptic throw-down that is the novel,
Blood Infernal
.
Rating: A- /10
Support this writer on Patreon
Last Updated: Jun 26, 2018 - 9:28