Welcome to Braggsville book review
By Leroy Douresseaux
Mar 4, 2015 - 18:08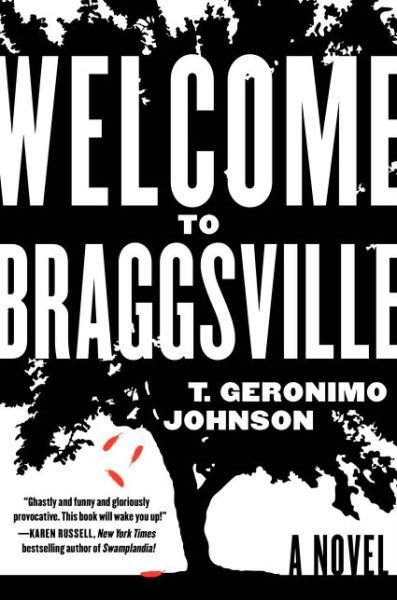 Welcome to Braggsville cover image
Follow me on
Twitter
.
Welcome to Braggsville
is a novel from
T. Geronimo Johnson
, the acclaimed African-American author of
Hold It 'Til It Hurts
. This new novel focuses on four college students who plan to stage a dramatic protest during a Civil War reenactment and the subsequent fallout.
Welcome to
Braggsville, Georgia
– population 712. For the better part of two centuries, Braggsville's denizens have called it "The City That Love Built in the Heart of Georgia."
D'aron Little May Davenport
is a son of Braggsville, and his name, "D'aron" is really Irish and is pronounced like "Daron," or so say his parents, Mr. and Mrs. Davenport.
D'aron is currently attending the University of California-Berkeley, better known simply as "Berkeley." Although he had few close friends in Braggsville, D'aron has found three kindred spirits in college. There is
Louis Chang
a/k/a "Loose Chang," who is Malaysian, but tells people that he is Chinese. A jokester, Louis wants to be a stand-up comic – the "Lenny Bruce Lee" of comedy.
Next, there is
Charles "Charlie" Roger Cole
, the former football star and Black friend from Chicago. Like the former Senator Barack Obama, Charlie is "articulate and bright and clean and a nice-looking guy." Finally, there is
Candice Marianne Chelsea
, an Iowa blonde who claims Native American roots. D'aron is in love with her, but so are Louis and Charlie – maybe. This quartet comes together as the "
4 Little Indians
."
One day, in alternative history class, D'aron lets slip loose that Braggsville hosts an annual Civil War reenactment that has recently been re-branded as "
Patriot Days
." Candice suggests that the 4 Little Indians travel to Braggsville and crash Patriot Days in an act of "performative intervention." The journey to Braggsville provides plenty to laugh at, but things turn decidedly unfunny.
THE LOWDOWN:
William Morrow sent me an advance reader's edition of
Welcome to Braggsville
. In a letter posted on the very first page of the book,
Jessica Williams
, the editor of this novel, describes it as "Alternatively poignant and provocative, hilarious and devastating..." Yes, yes, yes, and yes;
Welcome to Braggsville
is all that. Williams says that this novel is "a brave and necessary portrait of contemporary America...." That's sho-nuff true.
You see,
Welcome to Braggsville
is not really like many novels that fill bestseller lists and store bookshelves. It's plot might seem simple – kids protest a Southern Civil War reenactment. However, that truly only scratches the surface of this ambitious novel that plumbs the depths of both the human heart and the troubled racial and racist history of the United States. There are probably potboiler novels that can be described similar to this: say something like: star police detective tracks a mysterious new spree killer whose crimes are uncannily similar to murders committed by the Ku Klux Klan a century ago! But
Welcome to Braggsville
is not about plot.
At its center,
Welcome to Braggsville
tackles an act that may be racist or have racial overtones. This complex, messy, and beautiful novel is both surprisingly readable and stubbornly difficult. T. Geronimo Johnson digs into the lies and deceit about racism, discrimination, exploitation, and even about America's most recent imperialist adventures. He deconstructs it all and tries to get at the human heart of the matter. Perhaps, that is where the answers and solutions are – in the yearning, confused, and troubled human heart. This is the kind of novel that is both a necessary read and a good read.
Welcome to Braggsville
is the modern satirical novel, but its pedigree is Southern-fried and Southern Gothic. We need more fiction like this.
POSSIBLE AUDIENCE:
Readers looking for unique modern literature will enjoy
Welcome to Braggsville
.
Rating: A /10
Support this writer on Patreon
Last Updated: Jun 26, 2018 - 9:28