Bluewater Productions Presents Princess Di and Condie Rice
By Leroy Douresseau
March 30, 2009 - 14:10
Princess Diana and Condoleezza Rice Will Be the Subjects of the Next 'Female Force' Comic Books

Bluewater Productions is proud to announce Princess Diana and Condoleezza Rice will be the subjects of the newest additions to the "Female Force" biographical comic book series. The "Female Force" books feature some of the most influential women of our time.

Female Force: Princess Diana written by Chris Arrant, takes a close look at the admirable British icon who won hearts around the world as a princess, public figure, philanthropist and parent. The book will be available in July.

Female Force: Condoleezza Rice written by Christopher Ward & Nick Lyons, chronicles Rice's life from childhood to her accomplished career as the first black woman to serve as U.S. Secretary of State. Due in stores in August, this issue will document how Rice became one of the most powerful women of the past decade.

"Female Force" cover artist Vinnie Tartamella did both covers.

The "Female Force" series was recently featured on "Live with Regis and Kelly," CNN, MSNBC and Fox News, and in People magazine, Chicago Tribune, USA Today and thousands of other media outlets.

Diamond Comic Distributors reports advance sales for the monthly series' next installment, featuring Michelle Obama, have already made the book its top-selling independent comic for April. Overwhelming demand for the Hillary Clinton and Sarah Palin books has prompted multiple printings.

To find a comic book store near you download one of the ComicBookBin apps. "Female Force" books are also available on Amazon.com, where they have been ranked among the site's top 300 books.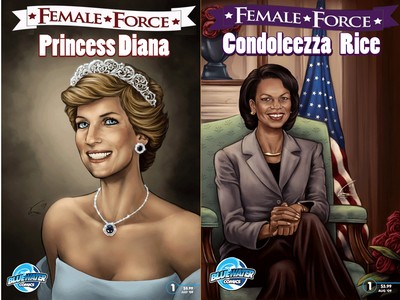 Image of Princess Diana and Condoleezza Rice comic books.
Last Updated: August 31, 2023 - 08:12