Bluewater Comics Now Has "Power of the Valkyrie"
By The Editor
December 12, 2008 - 06:16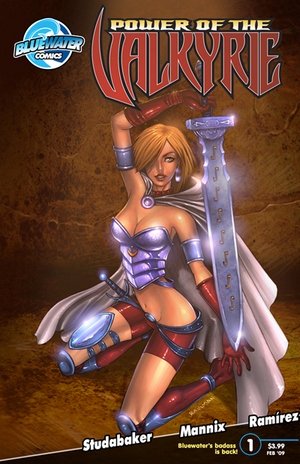 Power of the Valkyrie #1 Cover A
POWER OF THE VALKYRIE COMES HOME TO BLUEWATER
Bluewater Productions is going back to the books that made them popular. Last week it was announced that the 10th Muse is back but also Legend of Isis is on the way this summer as an ongoing series. To top it off Power of the Valkyrie is geared for a February 2009 comeback. Originally published through Arcana, it comes home to Bluewater. Written by Chris Studabaker, drawn by Mannix and colored by Farés Ramírez.
Bluewater describes the new "Power of the Valkyrie" series as, philosophic action and adventure continues in this new saga starring Bluewater's Norse hero and written by Day Prize-nominee Chris Studabaker. Suzanne Bancroft is going to die, and the end of the world will be her fault. A relentless demi-god has declared he will murder Suzanne and her death will begin a chain of events culminating in Ragnarok. Worse yet – her murderer can see her fate. While still trying to understand her new role as the Valkyrie, Suzanne must seek the true nature of fate and ask herself a hard question: how do you fight a battle you're destined to lose?
"Valkyrie has been a treat to write", says writer Chris Studabaker. "A lot of use having passing familiarity with Norse mythology, but we used some very different storytelling here, interweaving ancient stories and modern narrative. The idea of modernizing ancient gods provides a lot of fodder for big fights, but the most important aspect of the Norse pantheon has always been their striking humanity and that's what we're exploring".
Studabaker continues, "All these ideas about people, myth, fate, and circles come together incredibly in the full mirrored layout of issue four and his treatment of the mirrored ideas and page layouts are really beautiful. The Fate of Gods and Men is about just that – what history and fate mean to us, our heroes, our gods, and how we comes to terms with the answers".
"Valkyrie is the darkest of all the Bluewater female titles", said Darren G. Davis creator of the character. "We wanted to do something that was different from our other classic characters, so we gave this series a more adult feel".
To order issue #1 through Diamond use the order code: DEC083828: POWER OF THE VALKYRIE.
For more information on Bluewater Productions, visit them online at their all-new, recently redesigned Web site (http://www.bluewaterprod.com), or check them out in your local comic book shop!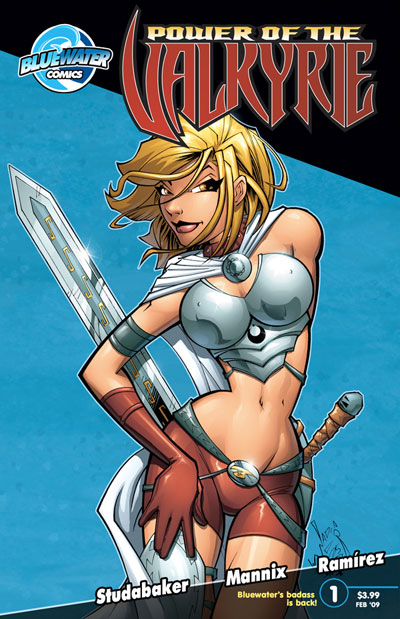 Power of the Valkyrie #1 Cover B
Last Updated: August 31, 2023 - 08:12