Blue Exorcist: Volume 10 manga review
By Leroy Douresseaux
Jul 3, 2013 - 17:32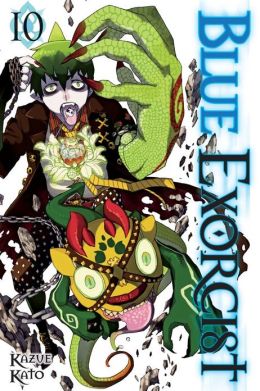 Blue Exorcist Volume 10 cover image is courtesy of barnesandnoble.com.
Rated "T+" for "Older Teen"
Rin Okumura has a fateful argument with Father Fujimoto, the famous exorcist who is like a father to him. That quarrel reveals the Demon Lord Satan as Rin's father. However, Rin is determined to reject his demonic blood line, so he enrolls at True Cross Academy Private High School, where Rin's twin brother, Yukio Okumura, is an exorcist. Now, Rin will train to become an exorcist.
Blue Exorcist, Vol. 10 (Chapters 38 to 41) opens in the aftermath of the struggle with the Impure King, whom Rin defeated using the blue flame from the Koma Sword. Now, it's time to return to the routine at True Cross Academy, but the routine will not last long.
On the other side of the world in Yemen, Arthur Auguste Angel and his associate, Lightning, are part of a strange encounter that is the harbinger of evil things to come. The Vatican has special orders for Angel, and someone opens a gate to Gehenna in Russia. Meanwhile, Rin and his fellow students have to solve "The Seven Mysteries of True Cross Academy," at the best of Lord Mephisto Pheles.
[This volume contains a bonus story, "Kinzo's Band Doesn't Care."]
THE LOWDOWN: The Blue Exorcist manga can be described as a comic fantasy about a teen boy with a cursed origin trying to find redemption or justification for his existence. However, Blue Exorcist creator Kazue Kato gives the series a darker side reminiscent of such shonen manga as Muhyo & Roji's Bureau of Supernatural Investigation and D.Gray-man. Both of these series mix comedy with darker elements in stories about the struggle to save their world from a great darkness.
Oh, for heaven's sake. I'll just reference something with which many readers are already familiar. Blue Exorcist is similar in some ways to the Harry Potter novels. Blue Exorcist is about a special kid struggling with his magical powers and heritage, going to a school of magic or the supernatural, and investigating a great conspiracy around a really nasty world-beater type adversary or adversaries.
And Blue Exorcist is a good read, not as good as Harry Potter, but still good in its own way. If more young readers were reading comic books, I think they would enjoy Blue Exorcist as much they would anything Marvel or DC Comics is publishing.
POSSIBLE AUDIENCE: Readers who like the heady brew of shonen action, comedy, and fantasy will want to try the Shonen Jump Advanced title, Blue Exorcist.
Rating: A- /10
Last Updated: Jun 26, 2018 - 9:28