Blue Exorcist: Volume 7
By Leroy Douresseaux
April 1, 2012 - 21:52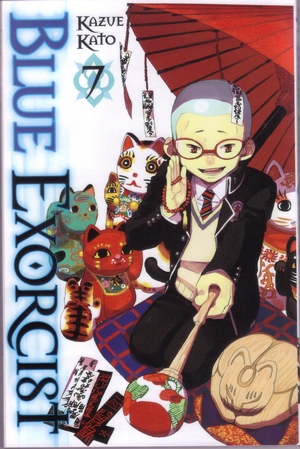 Blue Exorcist Volume 7 cover image
Rated "T+" for "Older Teen"
Rin Okumura has a fateful argument with Father Fujimoto, the famous exorcist who is like a father to him. That quarrel reveals the terrible secret of Rin Okumura's origin; the Demon Lord Satan is Rin's father. However, Rin is determined to reject his demonic blood line, so he enrolls in True Cross Academy Private High School, where he will train to become an exorcist!
As Blue Exorcist, Vol. 7 (entitled Fight Hellfire with Hellfire) begins, Mamushi Hojo is fooled by the demon Saburota Todo into helping him free the Impure King. Tatsuma Suguro, who once fought the King, fights again, but he is older now, which makes him relatively easy prey for his adversaries. His son, Ryuji Suguro, leads the charge to fight the spreading pestilence of the Impure King.
Rin, the one who can possibly defeat the King, is locked in prison, locked in self-doubt, and he's just received a death sentence from the Vatican. And the weapon he is supposed to wield is useless to him.
THE LOWDOWN: The Blue Exorcist manga began as a comic fantasy about a teen boy with a cursed origin trying to find redemption or justification. Of late, creator Kazue Kato has turned the series towards the grand conspiracies that are typical of many popular titles, from Naruto and Bleach to Muhyo & Roji's Bureau of Supernatural Investigation and D.Gray-man.
That's cool; I'm a sucker for the aforementioned. In fact, Blue Exorcist reminds me of Muhyo & Roji's. As a shonen conspiracy/battle manga, Blue Exorcist is good. In fact, this volume is a page-turner. Still I wouldn't mind if it returned to its teen angst-supernatural comedy beginnings.
POSSIBLE AUDIENCE: Readers who like the heady brew of shonen action, comedy, and fantasy may like Blue Exorcist.
A-
Last Updated: August 31, 2023 - 08:12