Blue Exorcist: Volume 1
By Leroy Douresseaux
March 24, 2011 - 09:11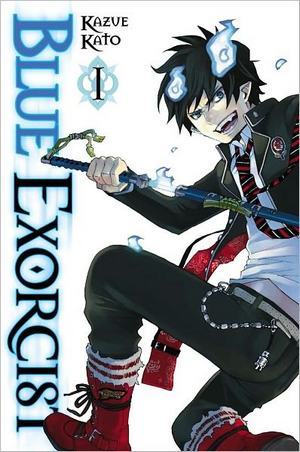 Blue Exorcist Volume 1 cover image is courtesy of barnesandnoble.com.
Rated "T+" for "Older Teen"
Rin Okumura was raised by Father Fujimoto, a famous exorcist, but a fateful argument with the Father reveals the terrible secret of Rin's origin. The Demon Lord Satan is Rin's father. Now, Rin is determined to reject his demonic blood line and enrolls in True Cross Academy Private High School, where he will train to be an exorcist!
In Blue Exorcist, Vol. 1, daddy comes a calling. Satan arrives to claim his son, Rin, but Rin has other plans. Plus, Rin learns a shocking secret about his younger, fraternal twin brother, Yukio, who hasn't inherited the demonic bloodline.
THE LOWDOWN: Sometimes, I read the first volume of a manga series, and it so impresses me that I am ready to give it a high grade right from the beginning. Or it does not impress me, and I give it a low mark. A Shonen Jump manga, Blue Exorcist has potential, but I'm not ready to grade it, yet.
Created by Kazue Kato, Blue Exorcist is an action/fantasy with comedic elements. Thus far, the stories are told in episodes that are built around the larger story arc and internal mythology. I like the comedy and the bickering between characters. I think that regardless of the imaginatively designed characters and inventive fantasy, Blue Exorcist's strength will be in the characters, and right now, the series seems strong.
POSSIBLE AUDIENCE: Teen readers will like the action and comedy of Blue Exorcist.
Last Updated: January 24, 2022 - 11:00