The Binquirer April 30, 2014 Edition
By Hervé St-Louis
April 30, 2014 - 09:25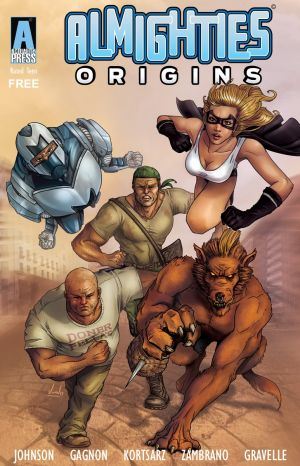 The Almighties: Recharged Reloaded Reduxed
Rumours of the Binquirer's death are greatly exaggerated apparently!
In the News...
Comics
The Almighties: Recharged Reloaded Reduxed
Sam Johnson and Mike Gagnon released
The Almighties: Recharged Reloaded Reduxed
. The free 12 page digital super hero comic follows the
Almighties Origins
one shot comic released earlier this year. Download the free comic at thealmighties.com
Digital Comics
ComiXology Troubles
The digital comics app ComiXology no longer supports in-app purchases on iOS devices such as the iPhone and iPad. Android users running the ComiXology app downloaded from Google's Playstore are also affected. They now have to register with Paypal or Amazon's payment solution to buy new comics. Amazon who purchased ComiXology in April 2014, is avoiding revenue sharing with Apple and Google. ComiXology is one of the most popular comics app. Amazon's new policy reflects the existing platform and turf war in the mobile app environment. Comic readers and publishers are collateral damage caught in the crossfire.
Events
Free Comic Book Day 2014
Free Comic Book Day is on Saturday May 3rd 2014. The annual event is an outreach program from the comic book industry. It aims to attract non-comic book readers and casual readers to comics. Participating comic book stores will give away free comics preselected by participating publishers. Find your local comic book store using the free ComicBookBin app to get a few free comics!
Comics to Film
Son of Batman
Warner Bros. Home Entertainment will release Son of Batman on May 6, 2014 on on Blu-Ray, DVD and digital download. It is the 20th direct to home DC Universe Animated Original Movies from the studio. Son of Batman features Batman's long lost son trained by the hero's arch nemesis Ra's Al Ghul and the League of Assassins. Damian, Batman's reckless son becomes his new Robin. Warner adapted this movie from several comic books from DC Comics.

Batman: Assault on Arkham
Warner Bros. Home Entertainment released a preview of its next DC Universe Animated Original Movies. The 21st release features the Suicide Squad and the Joker in Arkham Asylum.
The Amazing Spider-man 2
The Amazing Spider-man 2 comes to movie theatres in North America o Friday May 2, 2014. This movie follows the new continuity with Andrew Garfield reprising his role as Spider-man. In this movie, Spider-man faces off against Electro (Jamie Foxx) and the Green Goblin (Dane DeHaan).
Winterworld
Microsoft's Xbox is developing a new
Winterworld
live action series with publisher IDW Publishing. The joint venture adapts a comic book by Chuck Dixon and Jorge Zaffino. Viewers can expect the new series on the Xbox's platform for original broadcast series. Winterworld is a post apocalyptic story of humans surviving on a frozen Earth. IDW Publishing will release a Winterworld comic book series in June 2014. Dixon writes the new series with art by Jackson Guice.
Last Updated: January 24, 2022 - 11:00