Comics / Comic Reviews / DC Comics
Batman Beyond: Hush Beyond Review
By Leroy Douresseaux
March 8, 2011 - 12:40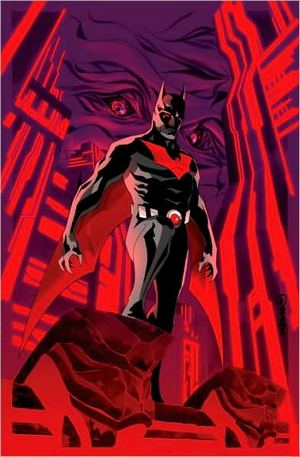 Dustin Nguyen's art for the cover of Batman Beyond #1 is also used for the cover of Batman Beyond: Hush Beyond.
Batman Beyond: Hush Beyond is a new trade paperback from DC Comics. It collects Batman Beyond (2010) #1-6, which were written by Adam Beechen, penciled by Ryan Benjamin, and inked by John Stanisci, with covers by Dustin Nguyen.
Batman Beyond began life as an animated series in January of 1999 on The WB Television Network. Set in the year 2039, it starred a new, younger Batman, with high school student Terry McGinnis wearing a new Bat-suit. The original Dark Knight, Bruce Wayne, guided Terry from their base of operations, the Batcave.
As the story begins, someone has escaped from Cadmus Labs in Neo-Gotham, and its trifling Director Amanda Waller is trying to keep things hush-hush, in spite of protests from research scientist, Nora Elliot Reid. From the beginning, the escapee leaves a trail of bodies behind him, all of them connected to the original Batman.
In his updated, hi-tech Bat-suit (now with invisibility and jet propulsion), Terry McGinnis takes on a foe who knows everything about him, and this couldn't have come at a worse time. Terry and his mentor/boss, Bruce Wayne, are at odds over Terry's job performance, and Terry has been running on little or no sleep. As he tries to uncover the secrets of this killer, he seeks help from Batman's original sidekicks, but one of them holds a grudge. Terry's investigation also leads him into conflict with a mysterious new Catwoman, who doesn't like The Bat the way the original did. And the streets say that someone who was supposed to be dead is back with a vengeance – Hush.
THE LOWDOWN: I have mixed feelings about the original Batman: Hush, written by Jeph Loeb and drawn by Jim Lee. Half of it was quite good; the other half was cold and robotic. Adam Beechen, the writer of this new Hush storyline, has written an old-fashioned potboiler/cliffhanger serial. This is a flat out, excellent read.
Sometimes, I couldn't read this thing fast to appease my hunger to know what was on the next page. Some of the ideas here are familiar, done hundreds of times before in other Batman comic books, but here, it is the execution that makes Hush Beyond such a thrill to read. Beechen is at his best in this story when he lets Terry and Bruce get raw with each other about their opinions of each other's job performance. Plus, there is a big red herring and twist here that will shock and confuse the reader – in a good way.
POSSIBLE AUDIENCE: Fans of Batman Beyond must have Batman Beyond: Hush Beyond, and readers of Batman comic books will certainly want to sample this.
A-
Last Updated: September 6, 2021 - 08:15