Comics / Comic Reviews / More Comics
Baltimore: The Curse Bells #1
By Leroy Douresseaux
August 12, 2011 - 08:31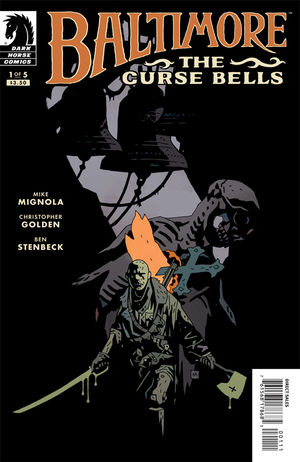 Baltimore: The Curse Bells #1 cover by Mike Mignola and Dave Stewart
Baltimore: The Curse Bells is the second miniseries in the comic book adaptation of Baltimore, or The Steadfast Tin Soldier and the Vampire. This is illustrated novel created by Hellboy creator Mike Mignola and novelist Christopher Golden and published in 2007.
The novel follows Captain Lord Henry Baltimore, an American military commander during World War I. After a ferocious battle, Baltimore discovers giant bat creatures feeding on his dead men. Baltimore slashes one, which in turn grievously wounds him, causing Baltimore to lose his leg. Baltimore has unknowingly wounded a great vampire, Haigus, who unleashes a vampire plague across Europe and goes after Baltimore's family.
As Baltimore: The Curse Bells #1 begins, it is October 1916. Monsters are overrunning Europe, and Baltimore is the only one who can put an end to these horrors by finding and killing Haigus, the vampire responsible for this chaos. Baltimore is in Lucerne, Switzerland tracking Haigus, but all he finds is carnage and the monstrous and demonic creations the vampire has left in his wake. Baltimore tracks Haigus to Bludeschtag, Austria, the home of a strange convent and its silent bells.
THE LOWDOWN: When I first heard of Baltimore the novel a few years ago, I dismissed it as not worth my time. I still haven't read it, so maybe it isn't worth my precious time. The comic book, on the other hand, is worth my attention. I really enjoyed this. As I read Baltimore: The Curse Bells, I thought of Frankenstein (1818) by Mary Shelley and Dracula (1897) by Bram Stoker because I was reminded of the thoughts and feelings I had while reading both those books.
I am familiar with Mignola, and I have been a fan of his work for over two decades. I'm not that familiar with Christopher Golden, but like his work. In this case, both creators deliver. The biggest surprise for me is Ben Stenbeck, whose art reminds me of Joe Matt's. Stenbeck's cartoony alt-comix style works quite well for this series because he can draw fantastic creatures and settings. His compositions are solid and the storytelling hits all the right notes for the fright fest that is this series.
POSSIBLE AUDIENCE: Hellboy and Mignola fans will want this.
A-
Last Updated: September 6, 2021 - 08:15