Aya Takeo: Volume 1
By Leroy Douresseaux
February 26, 2010 - 09:38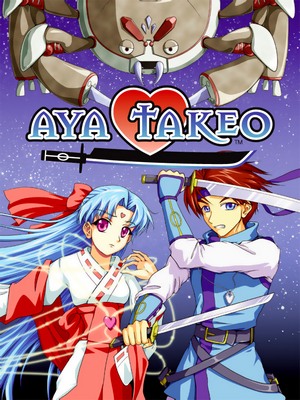 Aya Takeo Volume 1 cover art
Aya Takeo is an online comic published by Sweatdrop Studios, an independent UK producer of manga-inspired comics (or Global Manga). Set on a world existing in a distant wrinkle in time, Aya Takeo is the story of a young woman with special powers named Aya Akira and her beloved, a young warrior named Takeo. Aya and Takeo are part of the force that protects their world from the invading spider ships. This first volume of Aya Takeo collects the first year of the comic.
In Aya Takeo, Vol. 1, the enemy, Ji-Gumo, captures Takeo and drags him back to the spider ships' world, but Takeo is just one of the thousands upon thousands of kidnapped humans whom the invaders will eat. A conniving politician named Lord Hisoka hopes to use the attacks to help him gain control of the governing council, and he also has designs on Aya, whose hopes lie in the return of Takeo.
THE LOWDOWN: Obviously influenced by anime and manga, Aya Takeo looks like most small press, manga-style or manga-influenced comic books. What makes Aya Takeo stand out is the story from writer Lloyd Prentice. It is a typical sci-fi tale of a planet of valiant underdogs besieged by monstrous alien adversaries, but the story is also thoughtful and introspective, albeit in an uncomplicated manner, about the political, social, and spiritual ramifications of constant and total war.
Artist Sonia Leong has an engaging, unfussy style. Her art reminds me, a little, of the artists on those 1980s Robotech comic books: Mike Leeke, Rich Rankin, and Neil Vokes, among others. This style owes more to anime cel art than manga art, and, as executed by Leong, is lively and energetic. Leong's brisk storytelling includes shimmering, emotive colors that are quite pleasing to the eye. There is room for improvement here, but right now, this is a good comic book and a sweet read.
POSSIBLE AUDIENCE: Fans of OEL manga and anime-inspired comics will want to try Aya Takeo.
B+
Last Updated: August 31, 2023 - 08:12