Avalon High: Coronation, Vol. 1 - The Merlin Prophecy
By Leroy Douresseaux
July 12, 2007 - 13:18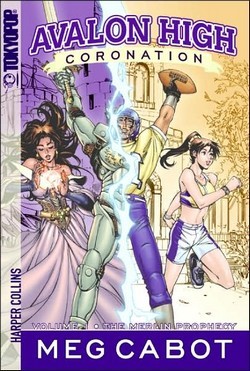 Thanks to barnesandnoble.com for the image.
Avalon High: Coronation, Vol. 1 – The Merlin Prophecy
is the OEL manga sequel to
Avalon High
, the bestselling young adult prose novel by author
Meg Cabot
(
The Princess Diaries
). The manga is written by Cabot and drawn by artist
Jinky Coronado
(
Banzai Girl
). Cabot divides the 109-page narrative into three chapters. Chapter 1 seems as if it is a recap of the Avalon High novel (but I don't know as I've never read the book).
The conceit of the series is that some of the major players of the Arthurian legend have returned. Avalon High's lead character is Ellie Harrison (who may be the Lady of the Lake or Elaine of Astolat) moves from Minnesota to Annapolis, Maryland to attend Avalon High. There, she meets and bonds with Will Wagner, who is likely the reincarnation of King Arthur. Ellie intervenes in Will's violent feud with his half-brother, Marco (who is likely Mordred, the man who mortally wounded King Arthur).
As Chapter 2 picks up, Ellie has been nominated for homecoming queen, and while she might normally welcome such an honor, she's already dealing with so many other issues. Ellie is trying to reconcile Will with his parents (Will lives with Ellie and her parents). She's also having nightmares that often feature the return of Marco (who was placed in a mental hospital after his near-deadly confrontation with Will).
Meanwhile, Will's ex-girlfriend, Morgan Frank (Morgan Le Fey) makes sure she bumps into Ellie as often as possible in order to make cryptic threats and gnash her teeth like a good villainess. Meanwhile, a mysterious sect called the Order of the Bear is pressuring Ellie to make Will accept that he is King Arthur reincarnated, and he must accept his birthright by the Hunter's Moon (which is Homecoming) or "the second age of Arthur will never come and civilization will be plunged into everlasting darkness." (To be continued in the second book "Hunter's Moon," which is currently scheduled for a September release.)
THE LOWDOWN: Placing the Arthurian legend in a high school setting is a novel idea, but ultimately it's all about interest on the reader's part and execution on the author's part. Concerning the former, I've enjoyed such comic book takes on King Arthur as Camelot 3000 and Matt Wagner's two Mage series. As far as Avalon High's manga adaptation, this Arthurian take does seem odd. Cabot (if she did indeed write the script as well as the story) gets the hang of writing in the comic book medium, so this isn't an awkward effort. Also, although the publishers describe this comic as romance/fantasy, Avalon High: Coronation is romantic fantasy as a teen soap opera.
The art by Jinky Coronado shows her strong storytelling skills, in particularly when she has to define characters and establish their moods and emotions. She uses various techniques to give the art texture quite well, especially the toning which adds richness, depth, and color to this black and white series. The only flaw in her art is Coronado draws figures in motion, as her characters look a little awkward when running, walking, or assuming the occasional dramatic pose. Still, everything else is good enough to make one wonder why Coronado isn't drawing for Vertigo.
FOR READERS OF: Avalon High: Coronation is written with the original novel's audience and age group in mind – 'tweens and early teens. Anyone else short of Arthurian legend diehards may not care for this.
B
Last Updated: January 24, 2022 - 11:00