Comics / Manga / Yaoi Manga
A Strange and Mystifying Story: Volume 1 (Yaoi Manga)
By Leroy Douresseaux
Apr 15, 2008 - 14:42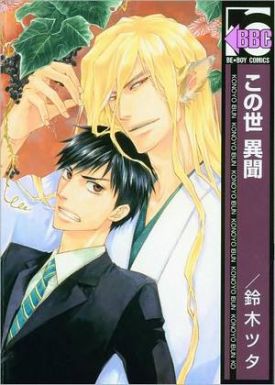 DMP's actual cover will keep the art, but change the borders. (Thanks to barnesandnoble.com for the image.)
Rated "M" for "Mature Audiences 18+"

In the two-part tale, "A Strange and Mystifying Story," Akio Yamane has fallen ill to the same mysterious disease that has killed his family bloodline. He's determined not to fall victim to this tragic family curse, but then he suddenly turns ill and is coughing blood. He makes a desperate wish and inadvertently summons the spirit of a strange man-beast. With the tail and ears of a wolf, Setsu has protected Akio's family in the past. Now, Akio learns that with a kiss, Setsu can draw the disease from his body. He's repulsed by Setsu's probing tongue and fiery touches… or is he?
In other stories: a young teacher finds himself drawn to a sullen pupil who cleans the school map room in "Nylon Vinyl." A master tool smith arrives home to find that a stray has wandered into his shabby one-room dwelling. When he learns that the kid has a way with sharpening and polishing tools, he takes a liking to him in "Is There No God or Buddha?"
THE LOWDOWN: In his yaoi manga (a genre that features love between two male characters, often explicitly), A Strange and Mystifying Story, Vol. 1, manga-ka Tsuta Suzuki masters the slow burn. He makes unrequited love and the anticipation of consummation entrancing. Suzuki casts a spell with these love stories, but the fantasy infused title story would challenge Danielle Steel on the prose fiction bestseller list.
POSSIBLE AUDIENCE: Yaoi fans who like stories featuring love between humans and fantastic creatures will clutch this to their bosoms.
A-
Last Updated: Jun 26, 2018 - 9:28