David Mazzucchelli's Asterios Polyp
By Leroy Douresseaux
August 20, 2009 - 13:16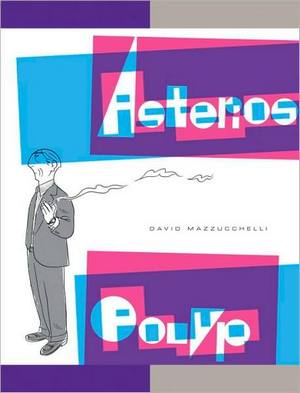 Asterios Polyp cover image
Several weeks ago, I was visiting Amazon.com when a thumbnail advertisement caught my attention. [I'm guessing those book recommendations are ads.] The ad was for Asterios Polyp, the first graphic novel from cartoonist David Mazzucchelli, who is best know for the graphic novel, Batman: Year One. The text of the ad, which was from a Publishers Weekly (starred) review, read, "For decades, Mazzucchelli has been a master without a masterpiece…"
Since its publication, Asterios Polyp has met with rave reviews, but I am not that surprised that it is indeed such a good book. Ever since I first read Rubber Blanket, Mazzucchelli's self-published, early 90s art comics anthology, I've expected him do great things in graphic novels and to rise to prominence in alternative and art comics. As far as I'm concerned, with Asterios Polyp, Mazzucchelli is just doing what he's supposed to do – be an exalted comix creator.
Mazzucchelli first gained attention drawing 24 issues of Marvel Comics' Daredevil over a three year period; the most famous part of the run is the story arc known as Daredevil: Born Again, written by Frank Miller and published in Daredevil 227-233. In 1987, DC Comics serialized the Miller/Mazzucchelli graphic novel. Batman: Year One, in issues 404-407 of the monthly Batman comic book. After that critical and commercial success, Mazzucchelli left superhero comics (except for an occasional cover or short story).
Had Mazzucchelli not left superhero comics, he probably would have ended up drawing Frank Miller vanity projects and Vertigo paint-by-number "crime-noir" graphic novels, or perhaps draw Spider-Man, Daredevil, Punisher, and/or Wolverine event comic books for Joe Quesada's Marvel Comics. Instead, Mazzucchelli contributed to various alternative comics and small press anthologies and news periodicals, which all led to Asterios Polyp and the engaging tale of its title character.
The novel opens in the cluttered apartment of 50-year-old Asterios Polyp; seven years prior to the beginning of this story he was a tenured professor at the University of Ithaca. Polyp experienced enormous success as a "paper architect," an architect whose reputation is built on his designs rather than on buildings being constructed from those designs; in fact, none of Polyp's designs had ever been turned into actual buildings.
Alone and lonely, Asterios is glumly watching sex tapes of himself and his ex-wife, Hana Sonnenschein, when a lightening strike sets his New York City apartment building on fire. Taking what few belongings he has left, Asterios, in something of a daze, leaves NYC and relocates to the American heartland, where he lands in the small town of Apogee. At this, the farthest point from the height of his fame, Asterios contemplates his future, and in a series of flashbacks, examines his past. Now, Asterios must search for meaning in his life, which may or may not determine his future, and the reader must discover what happened to Hana.
Mazzucchelli's graphic novel is certainly theoretical and truth-seeking, and coming in at 344 pages, it certainly is a novel. In this thick book, the author tackles the usual philosophical issues: meaning of life, the search for love, dual nature of man and existence, etc. Asterios Polyp is also a character study and biography of a fascinating literary character, and as such, I can understand why some have compared Asterios Polyp to the work of the recently deceased novelist John Updike.
As John Updike was a noted prose stylist, Mazzucchelli is the comic book equivalent, a graphic stylist who uses the follow-the-panel, sequential nature of comics to tell a story with truth and beauty, even as the lead character searches for both. The kind of rich description and fertile language that were characteristics of Updike's work, Mazzucchelli recreates with elegant panels. Each panel is a moment in the story that when connected to other panels becomes part of a scene or sequence that is rich in storytelling and fertile with ideas, inquiry, and themes.
Mazzucchelli's frequent narrative forays into the history and theory of art, culture, science, math, history, etc. might normally distance the reader from both his narrative and his lead character. However, he manages to use this intellectual knottiness to define Asterios Polyp as a specific person, while the broader story of a life examined, existence contemplated, and the redesign of this architect Asterios places him in the general context of the human experience. Thus, Polyp's story is a universal one, even if he is a wildly peculiar and unique individual.
Like Updike's Harry "Rabbit" Angstrom and Philip Roth's Coleman Silk, Asterios Polyp is equally maddening and fascinating character. However, Mazzucchelli isn't the first cartoonist to create a great graphic novel character. Those named Hernandez (Gilbert & Jaime), Seth, Chester Brown, and Daniel Clowes have done it. With Asterios Polyp, the graphic novel and the character, Mazzucchelli has simply finally done what he was destined to do… or supposed to do.
A+
Last Updated: January 24, 2022 - 11:00