Assassination Classroom: Volume 10 manga review
By Leroy Douresseaux
Jun 19, 2016 - 21:03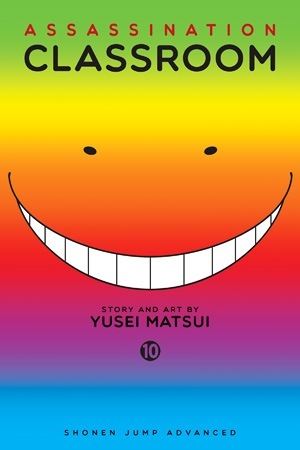 Assassination Classroom Volume 10 cover image
Rated "T+" for "Older Teen"
Why do the outcast students of
Class 3-E
at
Kunugigaoka Junior High
want to kill their teacher? They have the perfect excuse; he is the alien octopus that recently destroyed 70% of the moon. This alien traveled to Earth, where he became the teacher the students named "
Koro Sensei
." He promises to destroy the Earth after 3-E students graduate. Thus, it is up to these students to kill their teacher in order to save the world. They are the "Assassination Classroom."
As
Assassination Classroom

, Vol. 10
(Chapters 80 to 88; entitled
Time for Robbery
) opens, the students learn that Japanese farmers have vastly over-produced chicken eggs.
Kaede Kayano
decides this faux-agricultural crisis will finally give her the chance to design an assassination plot against Koro Sensei. It will involve eggs and dessert, but will "Time for Kayano" be the final time for the alien teacher?
Plus, someone has hatched a plot that makes Koro Sensei look like a despicable perv. Is he really a thief? Hmm, well, he is the mostly likely suspect.
[This volume includes the bonus story, "Saikyo Jump Business Trip."]
THE LOWDOWN:
The
Assassination Classroom
manga is reliably entertaining, as usual, and of course, creator
Yusei Matsui
is reliably inventive. The series often offers single-chapter and sometimes double-chapter tales that are little gems of situation comedy.
Assassination Classroom Volume 10
opens with a surprise – a spin on foodie manga, done in its inimitable
Assassination Classroom
way. There is some "parkour" or "free running" fun, but with a point and a purpose. Plus, two familiar foes return, with one offered a second chance. Vol. 10 is one of the better graphic novel entries in this series, as it offers something for regular readers and plenty to impress new readers. Don't look away, newbies! Join the plot to kill an alien monster who is also the great teacher at the center of an excellent science fiction comedy manga.
POSSIBLE AUDIENCE:
Fans of comic sci-fi will want the Shonen Jump Advanced title,
Assassination Classroom
.
A
Rating: A /10
Support this writer on Patreon
Last Updated: Jun 26, 2018 - 9:28