Assassination Classroom: Volume 8 manga review
By Leroy Douresseaux
February 18, 2016 - 13:36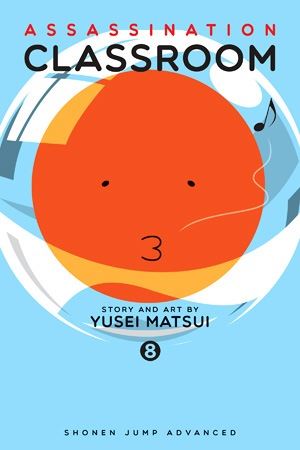 Assassination Classroom Volume 8 cover image
Rated "T+" for "Older Teen"
There is an entire class of students that wants to kill its teacher. Why is such anti-social (and even criminal) behavior a good thing?
Class 3-E
, the outcast students of Kunugigaoka Junior High, have the perfect excuse. An alien octopus destroyed 70% of the moon and then, traveled to Earth. Now, this alien is Class 3-E's teacher, and they name him "
Koro Sensei
." He promises to destroy the Earth after 3-E students graduate, so it is up to these students to kill their teacher in order to save the world. They are the "
Assassination Classroom
."
The students of Class 3-E take their summer break to train for and to launch their most detailed and advanced assassination plot against Koro Sensei. On
Fukuma Island
, a resort island also known as "Pandemonium Island," they almost succeed. However, there is another player in this assassination game, and he has left half of 3-E dying from a mysterious virus.
As
Assassination Classroom

, Vol. 8
(Chapters 62 to 70; entitled
Time for an Opportunity
) opens, the rest of Class 3-E climbs their way to
Fukuma Denjo Hotel
. In this mountaintop hotel, an evil mastermind awaits with an antidote for the virus that afflicts their classmates. The students have decided to pay the blackmail demanded, but they are on their own... or so they say.
Koro Sensei is in a state that does not allow him to physically help his students. Now, the students must rely on all their assassination training, but the identity of the mastermind will shock them all.
THE LOWDOWN:
I often say that the
Assassination Classroom
manga is a solid entry in VIZ Media's "Shonen Jump Advanced" line-up. This sci-fi and high school comedy offers imaginative action scenes and a revolving cast of supporting players that always entertains.
Assassination Classroom Volume 8
is one of the better volumes in the series. Creator
Yusei Matsui
shows what all that training he depicted the students receiving does for them and the narrative. The students have evolved into an infiltration team, and they are the true stars of story. We want to see them more; now, they are closer to being true adversaries for the alien teacher. Now,
Assassination Classroom
is a killer entry in the "Shone Jump Advanced" line.
POSSIBLE AUDIENCE:
Fans of manga comedies about aliens and humans coming together will want to enroll in the Shonen Jump Advanced title,
Assassination Classroom
.
A
Last Updated: January 24, 2022 - 11:00