Assassination Classroom: Volume 6 manga review
By Leroy Douresseaux
October 12, 2015 - 12:47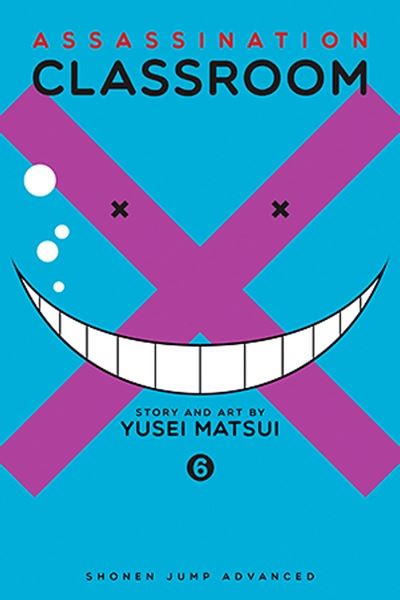 Assassination Classroom Volume 6 cover image
Rated "T+" for "Older Teen"
There is an entire class of students who want to kill their teacher, and that is a good thing. Why is such anti-social behavior a good thing?
Class 3-E
, the outcast students of
Kunugigaoka Junior High
, have the perfect excuse. An alien octopus destroyed 70% of the moon and then, traveled to Earth. Now, this alien is Class 3-E's teacher, whom they name "
Koro Sensei
." He promises to destroy the Earth after they graduate, so it is up to these students to kill their teacher in order to save the world. They are the "
Assassination Classroom
."
As
Assassination Classroom

, Vol. 6
(Chapters 44 to 52; entitled Swim Time) opens, Koro-sensei helps his student,
Meg Kataoka
, deal with a manipulative, overly-needy friend. Then, Class 3-E malcontent,
Terasaka
, wants to get back at both his fellow classmates for being over-achievers and at Koro-sensei for encouraging them. However, he makes a deal with two devils that endangers everyone.
THE LOWDOWN:
The
Assassination Classroom
manga continues to be a solid entry in the "Shonen Jump Advanced" line-up. The series works as both a sci-fi comedy and as a kind of workplace drama, with a high school being the workplace.
Assassination Classroom Volume 6
shows how good creator
Yusei Matsui
is at creating story situations around the melodrama and politics of high school. Vol. 6 does not feature as much of the inventive and imaginative alien weirdness as previous volumes. The stories contained in this volume focus on the student politics and rivalries, with Koro-sensei almost being a backdrop. Still, this kind of off-beat stretch of chapters may serve the series well. It will be interesting to see how Koro-sensei's powers and conniving plays into the "Final Exam" arc.
POSSIBLE AUDIENCE:
Fans of manga comedies about aliens and humans coming together will want to enroll in the Shonen Jump Advanced title,
Assassination Classroom
.
Rating: A- /10
Last Updated: August 31, 2023 - 08:12