Assassination Classroom: Volume 5 manga review
By Leroy Douresseaux
August 2, 2015 - 07:04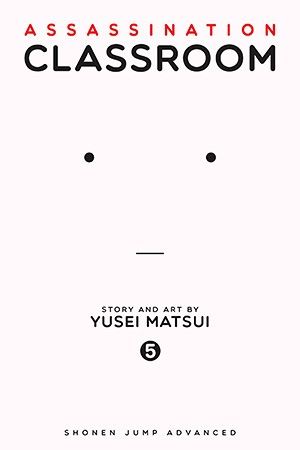 Assassination Classroom Volume 5 cover image
Rated "T+" for "Older Teen"
A student who wants to kill her teacher may be anti-social. An entire class of students that wants kill the teacher is a good thing. Why is that so?
Class 3-E
, the outcast students of
Kunugigaoka Junior High
, have the perfect excuse for such antisocial behavior. An alien octopus destroyed 70% of the moon and then, traveled to Earth. Now, this alien is Class 3-E's teacher, whom they name "
Koro Sensei
." He promises to destroy the Earth after they graduate, so it's up to these students to kill their teacher in order to save the world. They are the "
Assassination Classroom
."
As
Assassination Classroom

, Vol. 5
(Chapters 35 to 43; entitled
Time to Show Off a Hidden Talent
) opens, Class 3-E takes on elite baseball players from the rest of the school. Sounds like a great intramural event, except that school principal,
Gakuho Asano
, wants Class 3-E slaughtered.
With the deadline for saving the Earth approaching, the Ministry of Defense believes that
Tadaomi Karasuma
, P.E. teacher of Class 3-E, as well as mentor, has failed at his job. To make the students better assassins, the Ministry sends a new P.E. Teacher,
Akira Takaoka
. However, Takaoka is an old rival of Karasuma's, which creates a dangerous situation for the students.
THE LOWDOWN:
At this point, I have to accept that the
Assassination Classroom
manga is indeed the real deal. A solid entry in the "Shonen Jump Advanced" line-up, the series works as both a high school comedy and as a sci-fi farce.
Assassination Classroom Volume 5
is a typical volume, if a series can have a typical volume after the publication of only five volumes. Creator
Yusei Matsui
proves that he can create one-off characters that work in multi-chapter story arcs or in a single chapter. Akira Takaoka is perfect for the five chapters in which he is part, and, although he is thoroughly dismissed, he can be of use in future stories. In fact, I'd bet on it, and also the fact that many of you, dear readers, will like this series.
POSSIBLE AUDIENCE:
Fans of manga comedies about aliens and humans coming together will want to enroll in the Shonen Jump Advanced title,
Assassination Classroom
.
Rating: A /10
Last Updated: August 31, 2023 - 08:12