Assassination Classroom: Volume 3 manga review
By Leroy Douresseaux
April 21, 2015 - 22:52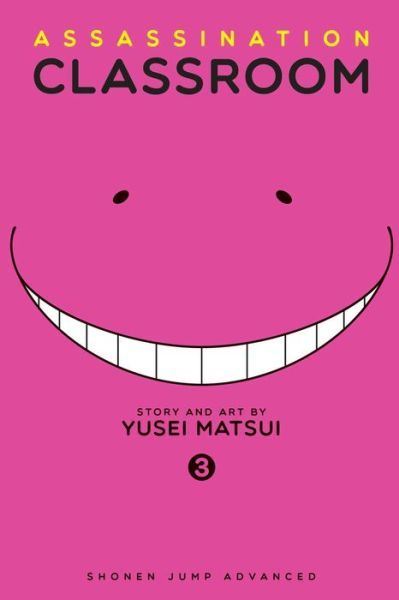 Assassination Classroom Volume 3 cover image is courtesy of barnesandnoble.com.
Follow me on
Twitter
.
Rated "T+" for "Older Teen"
There may be some crazy students who want to kill their teacher.
Class 3-E
, the outcast students of
Kunugigaoka Junior High
, have the perfect excuse for such antisocial behavior. An alien octopus destroyed 70% of the moon and then, traveled to Earth. Now, this alien is Class 3-E's teacher, whom they name "
Koro Sensei
." He promises to destroy the Earth after they graduate, so it's up to these students to kill their teacher in order to save the world. They are the "Assassination Classroom."
As
Assassination Classroom

, Vol. 3
(Chapters 17 to 25; entitled
Time for a Transfer Student
) opens, Class 3-E has to settle up with a group of kidnappers before they return home from their field trip. Koro Sensei decides that he also needs to teach some new students some old tricks. What teacher and students do not know is that someone named "
Red Sho
t" is also tracking them.
Next, Class 3-E has a new misfit. Her name is "
Autonomous Intelligence Fixed Artillery
," and she's programmed to kill the teacher. Then, Class 3-E's fellow students at Kunugigaoka decide that it is time to put the delinquents in their place.
THE LOWDOWN:
After reading the first volume of the
Assassination Classroom
manga, I wondered if it would prove to be as entertaining as it is weird. Vol. 2 proved that this series could offer a wide range of humor – from innuendo to sitcom situations.
Assassination Classroom Volume 3
shows that, like many creators of shonen fantasy,
Yusei Matsui
has a knack for filling his series with interesting characters. Some are regulars and others may be one-offs or infrequent guests, but all will do their part to make
Assassination Classroom
a success. Matsui is making good use of the relationship between the students and their bombshell teacher,
Irina Jelavich
. I didn't think that "Autonomous Intelligence Fixed Artillery" would amount to much, but Matsui is apparently quite imaginative.
POSSIBLE AUDIENCE:
Fans of manga comedies about aliens and humans coming together will want to enroll in
Assassination Classroom
.
Rating: A- /10
Last Updated: August 31, 2023 - 08:12