Assassination Classroom: Volume 2 manga review
By Leroy Douresseaux
January 30, 2015 - 21:08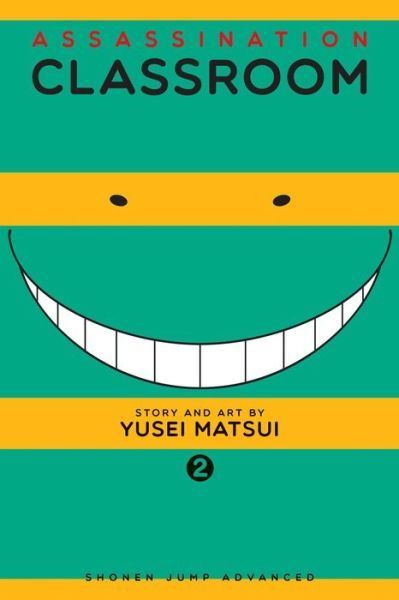 Assassination Classroom Volume 2 cover image is courtesy of barnesandnoble.com.
Follow me on
Twitter
.
Rated "T+" for "Older Teen"
An alien octopus destroys 70% of the moon and travels to Earth. There, he becomes a teacher at
Kunugigaoka Junior High
, where he teaches the outcasts of
Class 3-E
. The students name their alien teacher, "
Koro Sensei
." He promises to destroy the Earth after they graduate, so it's up to these students to kill their teacher in order to save the world. They are the "
Assassination Classroom
."
As
Assassination Classroom

, Vol. 2
(Chapters 8 to 16; entitled
Time for Grown-Ups
) opens, Class 3-E has a new teacher, and she's a hottie. However,
Irina Jelavic
h has a secret; she's an assassin, and she is ready to claim the $10 million reward for killing Koro Sensei.
He may want to destroy Earth, but Koro Sensei wants to turn his outcasts into the top students at Kunugigaoka. However,
Principal Gakuho Asano
has a pecking order to maintain, and he wants everyone to know their place – especially the denizens of Class 3-E.
THE LOWDOWN:
After reading the first volume of the
Assassination Classroom
manga, I found it a bit weird. With
Assassination Classroom Volume 2
, the series seems to settle into a rhythm. Assassinating the alien teacher is not the only thing that is so important to the situations in this sci-fi shonen comedy.
The students form an ensemble, and with each story, creator
Yusei Matsui
focuses on a particular student, letting the readers get to know him or her. The addition of the curvy Miss Jelavich adds another layer of comedy. I really laughed out loud at most of the scenes relating to her in this volume.
Assassination Classroom
may be more than what it first appeared to be, and it may show still more in future volumes.
POSSIBLE AUDIENCE:
Fans of manga comedies about aliens and humans coming together will want to enroll in
Assassination Classroom
.
Rating: A- /10
Last Updated: August 31, 2023 - 08:12