Assassination Classroom: Volume 1 manga review

By Leroy Douresseaux
January 8, 2015 - 19:29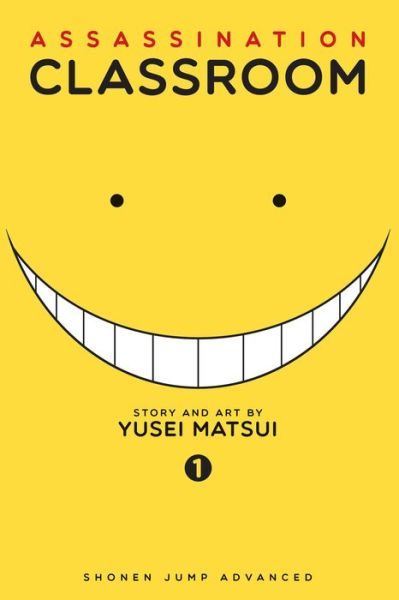 Assassination Classroom Volume 1 cover image is courtesy of barnesandnoble.com.
Follow me on
Twitter
.
Rated "T+" for "Older Teen"
In the shonen manga, Assassination Classroom, an alien octopus destroys 70% of the moon. He becomes a teacher at Kunugigaoka Junior High, where he teaches the outcasts of Class 3-E. They name their alien teacher "Koro Sensei," and he promises to destroy the Earth after they graduate. Now, it's up to these students to kill their teacher to save the world. They are the "Assassination Classroom."
Assassination Classroom, Vol. 1 (Chapters 1 to 7; entitled Time for Assassination) finds the students of the Assassination Classroom ready to pop a cap to save the world. Besides saving the Earth, the other incentive is a 10 million dollar/yen reward, offered by Tadaomi Karasuma of the Ministry of Defense. It's up to Karasuma to train these students to kill... even if he has to become their new P.E. teacher. Plus, a juvenile delinquent skilled in battle tactics returns to school.
THE LOWDOWN: The Assassination Classroom manga is weird, with its mixture of comedy and menace. It can be disconcerting to go from poignant teacher-student relationship to classroom violence in the space of a few pages or even a few panels. At least, it would really be disconcerting if Assassination Classroom were not a shonen manga – a genre or class of manga where comedy and comic violence meld in imaginative and even volatile ways.
I like the science fiction and fantasy sub-genre that brings aliens, humans, and schools together. I am still a fan of the 1980s animated series, Galaxy High School, and I have even sampled some of the manga that influenced it, Urusei Yatsura (or Lum). Assassination Classroom Volume 1 makes me curious to see where this goes.
POSSIBLE AUDIENCE: Fans of manga comedies about aliens and humans will want to enroll in Assassination Classroom.
Last Updated: August 31, 2023 - 08:12