All You Need is Kill manga review

By Leroy Douresseaux
November 9, 2014 - 06:34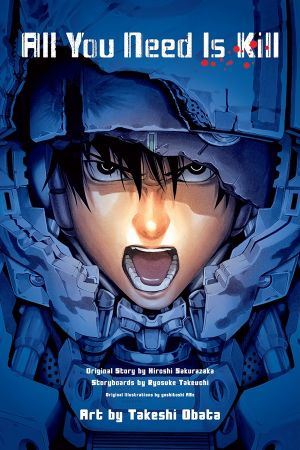 All You Need is Kill manga cover image
Follow me on
Twitter
.
Rated "T+" for "Older Teen"
First published in Japan in 2004,
All You Need is Kill
is a science fiction novel written by author
Hiroshi Sakurazaka
. The novel is the source material for the 2014 film,
Edge of Tomorrow
, starring Tom Cruise and Emily Blunt. VIZ Media also produced an original comic book adaptation of Sakurazaka's novel, entitled
All You Need is Kill: Official Graphic Novel Adaptation
, by writer Nick Mamatas and artist Lee Ferguson.
There is also a manga adaptation of All You Need is Kill, produced by artist
Takeshi Obata
with writer
Ryosuke Takeuchi
(storyboards) and
yoshitoshi Abe
(original illustrations). VIZ Media originally premiered the manga in its
Weekly Shonen Jump
digital manga anthology and recently published an omnibus print edition (5.5" x 8.25"and 430 pages) of
All You Need is Kill
the manga, which is black and white with several color pages.
All You Need is Kill
opens sometime after Earth has been invaded by the alien
Mimics
. In Japan, the
United Defense Force
(
UDF
) was created to fight the Mimics, which are difficult to defeat. In the
17th Company
of the UDF,
Keiji Kiriya
is a "Jacket soldier," named because of the armor he and other soldier wear, called a "
Jacket
." One morning, Keiji awakens after a strange dream in which he died in battle. He spends the rest of the day with a sense of deja vu.
Then, the
U.S. Special Forces
, which is basically the only military that is successful against the Mimics, arrives. Keiji sees
Rita Vrataski
, the leader of the U.S. Special Forces, known as "
the Valkyrie
," and also as the "
Full Metal Bitch
." Keiji knows that he has seen her... on the battlefield... before he died. Keiji has been dying in battle, only to be reborn the next morning, to fight and die again and again. Is the Full Metal Bitch the key to Keiji escaping the cycle or the catalyst to meeting his final death?
THE LOWDOWN:
Takeshi Obata is one of my favorite manga creators, so I was excited when VIZ Media gave me a copy of the
All You Need is Kill
manga for review. It truly deserves to be called a "graphic novel," not only because of its length of 430 pages, but also because of the epic scope of its narrative.
All You Need is Kill
is rousing military science fiction, and it offers the thrill of a frenetic action movie. It is also the manga adaptation of a light novel reborn as a genuine shonen battle manga, because this feels less like an transfer of mediums and more like something first born as a manga.
Ultimately, what makes the manga
All You Need is Kill
successful is the attention to character drama and personal details. Readers will buy the idea that Keiji and Rita are imperiled because the creators of this manga go to the emotional center and into internal conflicts of the characters. The world seems at risk because the readers see it through characters in which they can believe, so the risk feels real.
Taekshi Obata deserves to be called "great" because his storytelling is always potent, regardless of genre, and he gives texture and life to drawings on paper. All you need is talented manga creators who can deliver and you get high-quality science fiction manga like
All You Need is Kill
.
POSSIBLE AUDIENCE:
Fans of science fiction manga and also of Takeshi Obata will want
All You Need is Kill.
Rating: A /10
Last Updated: January 24, 2022 - 11:00