Comics / Comic Reviews / More Comics
All Time Comics: Bullwhip #1 comics review

By Leroy Douresseaux
Jun 20, 2017 - 12:55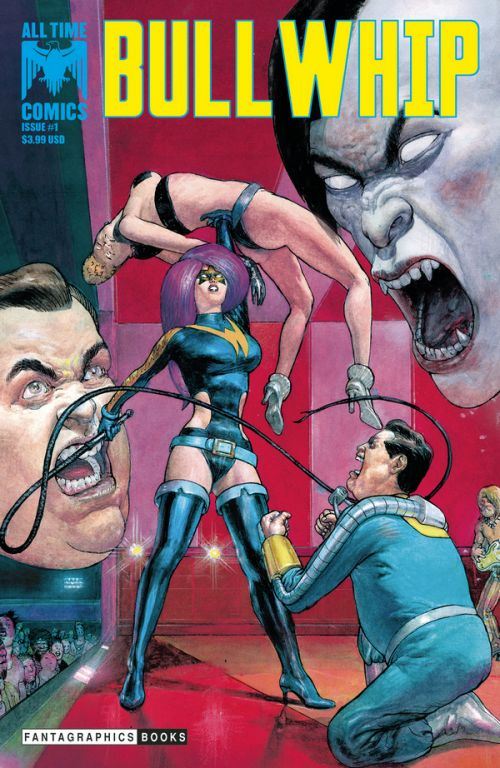 All Time Comics: Bullwhip #1 cover image
"Web of Oblivion!"
Alternative comix mainstay, Fantagraphics Books, is currently publishing comic books set in a new shared superhero universe. Entitled "All Time Comics," this imprint/universe will see the release of six comic books, each a stand-alone story featuring a particular superhero or set of superheroes.
The hook with All Time Comics is that each title is a mash-up of and throwback to classic 1970s comic books, especially those published by Marvel Comics. The second title is
All Time Comics: Bullwhip
. It is plotted by
Josh Bayer
and
Benjamin Marra
; scripted by Bayer; drawn by Marra (pencils) and
Al Milgrom
(inks); colored by
Matt Rota
; and lettered by
Rick Parker.
All Time Comics: Bullwhip

#1
("Web of Oblivion!") opens in
Metro City
at a concert venue.
Candy Christilliam
and her band "
Brain Parasites
" were about to jam, but the concert is being held up by a woman-hating villain, "
The Mysogynist
." Lucikly the mysterious crime-fighter, Bullwhip, has sworn to keep Metro City safe from villainy, violence, and sexist pigs.
However, The Mysogynist isn't the only evil-doer plaguing the concert and the city. The second villain is the "
Time Vampire
," a strange figure determined to attack one of the twin
Alexi sisters
. The third adversary acts from the shadows; he is
Raingod
.
THE LOWDOWN:
Like
All Time Comics: Crime Destroyer
#1,
Bullwhip
#1 is a retro comic book, recalling the past, but not as much as the Crime Destroyer. For me, Bullwhip reads like an almost, but not quite pure comic book. The difference is that Bullwhip is a female superhero and a rock solid feminist, who kicks ass with all the gusto of the most ballsy male superheroes. And, well, pure comic books seem to keep women on the side – at least the pure comics of the past.
All Time Comics: Bullwhip #1 feels like a Fantagraphics Books alt-comix title, with the art owing more to Dan Clowes or Peter Bagge than it does to Jack Kirby, Neal Adams, or Gil Kane – three of the most influential graphic artist comic book storytellers in modern superhero comic books. The story is also retro, part Silver Age Marvel Comics and part Charlton Comics oddball horror / superhero comic book.
In the end, influences and inspiration aside, I had a blast reading this comic book, and dammit, I want more... NOW! I heartily recommend it.
I READS YOU RECOMMENDS:
Fans of "old school" 1970s comic books will want to try
All Time Comics: Bullwhip
#1.
9.5 out of 10
A
Rating: 9.5 /10
Support this writer on Patreon
Last Updated: Jun 26, 2018 - 9:28