Air Gear: Volume 15/16/17
By Leroy Douresseaux
Nov 1, 2010 - 8:09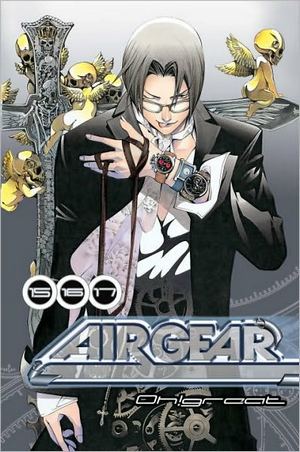 Air Gear Volume 15/16/17 cover image is courtesy of barnesandnoble.com.
Rating "OT" for "Ages 16+"
Air Gear is a shonen manga created by Oh!great (the pen name of mangaka Ito Ōgure). The series takes place in a world where the most popular sport is Air Trecks, a form of inline skating that involves highly-advanced technology and supernatural or super powers. The series focuses on student and juvenile delinquent, Itsuki "Ikki" Minami, who is also something of an Air Trecks prodigy and who may become someone known as the "Sky Keeper." To compete with other Air Trecks teams, Ikki and his friends form their own team, Kogarasumaru.
Del Rey Manga is the North American publisher of Air Gear (which is published by Kodansha in Japan). In addition to publishing the series in individual volumes, which collect several chapters of Air Gear, Del Rey also publishes mini-omnibus editions that gather three or four volumes in one paperback.
Air Gear, Vol. 15/16/17 opens with the conclusion of the battle between Kogarasumaru and Animal House. In the battle royale between Benkei and the bubblicious Ohm, Benkei finds Ohm a tough girl to keep down. Then, Team Tool Toul To's Canon plots to destroy the relationship between Ringo and Ikki, and he may succeed in spite of Ringo's efforts. Can Ringo convince Ikki that she wasn't trying to sabotage him?
Some shonen manga (comics for teen boys) are like a Japanese equivalent of American superhero comics. In DC Comics' Legion of Super-Heroes, the members have "flight rings," which allows them to fly, but the various members' powers are not derived from the rings. In Air Gear, the characters all have inline skates, which allow them to do amazing things. They skate along walls, leap great distances, and even battle in a quasi-martial arts style. Some of them have special powers which amplify their skating prowess, while some can amplify the skates' power with advanced technology.
However, what really makes this series stand out is the oddball cast. There are so many characters that it is hard to keep track of them, and some are honestly not that interesting. Some are, like Ohm and the fascinating and complex lead, Ikki, stand out. The characters are the reason that some superhero readers may actually like this kooky, shonen, super-powered people comic book.
B
Last Updated: Jun 26, 2018 - 9:28