A Devil and Her Love Song: Volume 13 Advanced manga review
By Leroy Douresseaux
February 2, 2014 - 10:21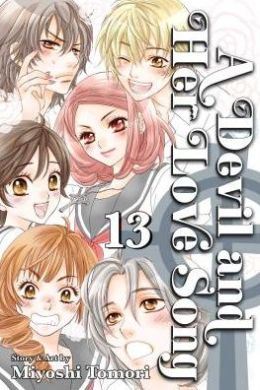 A Devil and Her Love Song Volume 13 cover image is courtesy of barnesandnoble.com.
Rated "T" for "Teen"
She is expelled from a prestigious Catholic school because of her difficult ways, so Maria Kawai enrolls at Totsuka High School. However, the students at Totsuka High find Maria's frank nature a bit off-putting. It is her angelic singing voice that catches the attention of two boys, Yusuke Kanda and Shin Meguro. The blond Yusuke wants to be everyone's friend, and the dark-haired Shin is a rebellious, sullen boy. Can they be this devil-girl's saving grace?
As A Devil and Her Love Song, Vol. 13 (Chapters 84 to 91) opens, Shin is still in the United States where he moved in order to get surgery and physical therapy for his wounded hand. With Shin living abroad, Maria is uncertain about their future together. She is also unsure about her future, as the end of high school fast approaches.
Maria fights with Ayu Nakamura, another stubborn girl. She fights with her biological father, John Cross. Then, she makes a big decision about her future, just before she gets a big surprise.
[This volume also includes a bonus story "Three months in…]
THE LOWDOWN: The A Devil and Her Love Song manga usually focuses on a single conflict or dilemma. A Devil and Her Love Song Volume 13 is final graphic novel in this series. The eight chapters that comprise this final volume juggle many conflicts. Happily, everything is wrapped up in a neat and satisfying way.
Creator Miyoshi Tomori leaves the fate of her characters and their post-high school futures open. A Devil and Her Love Song could have a follow-up or spin off manga, but I doubt it could be the fluffy tween soap opera that this series is. These kids will be adults, after all. I do like how this series ends, as it does not conclude in the way I expected. In a way, A Devil and Her Love Song's ending is as stubborn and as contrary as the lead character, Maria Kawai.
POSSIBLE AUDIENCE: Readers who like their shojo high school romance filled with contrarian girls will like the Shojo Beat title, A Devil and Her Love Song.
Rating: B+ /10
Last Updated: August 31, 2023 - 08:12