A Devil and Her Love Song: Volume 12 manga review
By Leroy Douresseaux
December 5, 2013 - 12:26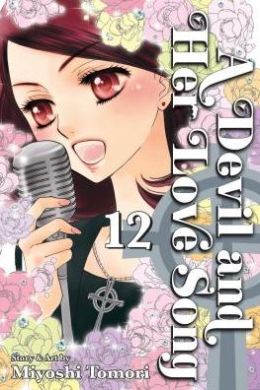 A Devil and Her Love Song Volume 12 cover image cover image is courtesy of barnesandnoble.com.
Rated "T" for "Teen"
Maria Kawai enrolls at Totsuka High School after being expelled from a prestigious Catholic school because of her difficult ways. Totsuka High students also find Maria's frank nature a bit off-putting, but her angelic singing voice catches the attention of two boys. The blond Yusuke Kanda wants to be everyone's friend, and the dark-haired Shin Meguro is a rebellious, sullen boy. Can they be this devil-girl's saving grace?
As A Devil and Her Love Song, Vol. 12 (Chapters 77 to 83) opens, Maria returns home after bidding her biological father, John Cross, goodbye. After reconciling with her father, Maria feels that things are looking up for her, but just a minute.
Shin's hand injury has gotten worse, and it's threatening his future as a pianist. So he has decided to travel to the United States to meet his parents and have surgery. He could be gone for years…
THE LOWDOWN: Each volume of the A Devil and Her Love Song manga usually focuses on a single conflict or dilemma. Creator Miyoshi Tomori seems to distill all subplots and revelations towards that single point of drama or melodrama.
A Devil and Her Love Song Volume 12, which focuses on Shin's inevitable departure, is quite potent. I didn't think that I cared so much that Maria and Shin could be separated. In fact, their separation could test the very bounds of the long distance relationship. Once again, A Devil and Her Love Song serves up a crisis and says, "Tune in tomorrow!"
POSSIBLE AUDIENCE: Readers who like their shojo high school romance to be soap opera crazy will like the Shojo Beat title, A Devil and Her Love Song.
Rating: A- /10
Last Updated: August 31, 2023 - 08:12