A Devil and Her Love Song: Volume 11
By Leroy Douresseaux
October 22, 2013 - 11:37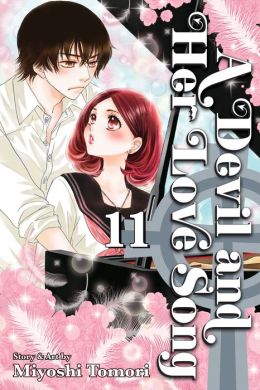 A Devil and Her Love Song Volume 11 cover image is courtesy of barnesandnoble.com.
Rated "T" for "Teen"
Expelled from a prestigious Catholic school because of her difficult ways, Maria Kawai enrolls at a new school, Totsuka High School. There, the students find Maria's frank nature more than just a bit off-putting, but her angelic singing voice catches the attention of two boys. The blond Yusuke Kanda wants to be everyone's friend, and the dark-haired Shin Meguro is a rebellious, sullen boy. Can they be this devil-girl's saving grace?
As A Devil and Her Love Song, Vol. 11 (Chapters 69 to 76) opens, Shin is trying to help Maria get her voice back. This mysterious inability to speak causes Maria much emotional turmoil, but what causes even more tumult is an old newspaper she finds in Shin's bag. An article about a shocking attack leads Maria to travel to Yokosuka, her hometown. Shin, Yusuke, and Shintaro Kurosu accompany her.
First stop is Kawai Factory where Maria and company meet her estranged grandparents. The more troubling meeting, however, is with John Cross, a mystery man who may be connected to Anna, Maria's mother.
THE LOWDOWN: It seems that with each volume, the A Devil and Her Love Song manga does something to make me stay interested in this series. Calling A Devil and Her Love Song Volume 11 shocking is like calling NBA legend Michael Jordan good – an understatement to beat other understatements.
Vol. 11 offers the usual high-strung, frantic, and mad melodrama. Series creator Miyoshi Tomori keeps doing what she does best, serve up scandal as a main course with a side salad of outrageous. Like a scene from a daytime soap opera, the last page practically screams, "Tune in tomorrow!"
POSSIBLE AUDIENCE: Readers who like their shojo high school romance crazy, sexy, cool (with an emphasis on crazy) will like the Shojo Beat title, A Devil and Her Love Song.
Rating: A- /10
Last Updated: August 31, 2023 - 08:12