A Devil and Her Love Song: Volume 10 manga review
By Leroy Douresseaux
August 24, 2013 - 14:41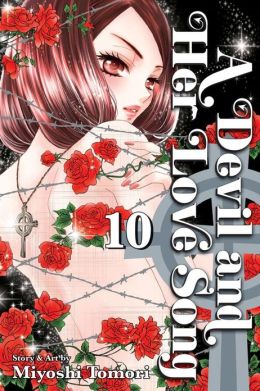 A Devil and Her Love Song Volume 10 cover image is courtesy of barnesandnoble.com.
Rated "T" for "Teen"
Maria Kawai was expelled from a prestigious Catholic school because of her difficult ways. At her new school, Totsuka High School, the students find Maria's frank nature more than just a bit off-putting, but her angelic singing voice catches the attention of two boys. The blond Yusuke Kanda wants to be everyone's friend, and the dark-haired Shin Meguro is a rebellious, sullen boy. Can they melt this devil-girl's cold heart or will they end up being scorched?
As A Devil and Her Love Song, Vol. 10 (Chapters 62 to 68) opens, Maria dreams of Augustine, the teddy bear that comforted her as a child. In her dreams, however, Augustine is a Ted-like mess-maker and a trouble-starter.
Maria wants to be closer to Shin, but she is still embarrassed about missing his piano recital. He seems to be avoiding her, and she struggles with how to resolve this problem. The bold new student, Shintaro Kurosu, decides that Shin has missed his chance, so now Maria should be his. When Shin does try to get closer to Maria again, it triggers the strangest reactions, but Shin is not surprised that this is the case.
THE LOWDOWN: The A Devil and Her Love Song manga is enjoyable for more than one reason. It can be a fluffy tale of high school friends having fun at the beach or at the mall in a way that goes down like a dessert drink from Sonic. It can offer high school politics, intrigue, and in-fighting. It is at its best, however, when the characters turn high-strung, frantic, and (dare I say it) crazy.
A Devil and Her Love Song Volume 10 is like a Douglas Sirk movie on steroids. Both Maria and Shin's actions, thoughts, and feelings are a mass of confusion. Talk about teen hormones, but it makes for great reading. I tore through this volume. Series creator Miyoshi Tomori keeps me coming back because she is shameless and never plays it safe. Why be dramatic when she can melodramatic.
POSSIBLE AUDIENCE: Readers who like their shojo high school romance both sweet and tart will like the Shojo Beat title, A Devil and Her Love Song.
Rating: A- /10
Last Updated: August 31, 2023 - 08:12