A Devil and Her Love Song: Volume 9 manga review
By Leroy Douresseaux
July 24, 2013 - 17:06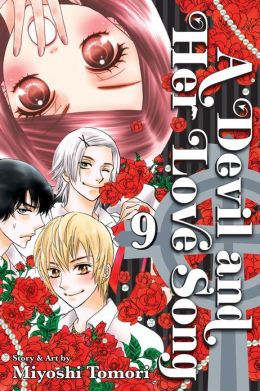 A Devil and Her Love Song Volume 9 cover image is courtesy of barnesandnoble.com.
Rated "T" for "Teen"
After she was expelled from the prestigious Catholic school, St. Katria (because of her difficult ways), Maria Kawai found a new school. At Totsuka High School, the students find Maria's frank nature more than just a bit off-putting. Her angelic singing voice catches the attention of two boys. The blond Yusuke Kanda wants to be everyone's friend, and the dark-haired Shin Meguro is a rebellious, sullen boy. Can they melt this devil-girl's cold heart or will they end up being scorched?
As A Devil and Her Love Song, Vol. 9 (Chapters 55 to 61) opens, Maria, Shin, Yusuke, and their closest friends are spending the weekend at Shin's family's beach house. There, bold new guy, Shintaro Kurosu, makes his move to get really close to Maria. What will Shin do? Will this affect the weekend getaway?
Unable to tell Maria how he feels about her, Shin channels all his energy into his music. That dedication (or single-mindedness) earns the young pianist a chance at redemption in the form of a big part in an upcoming concert. He wants Maria to be there, but fate may have other plans.
THE LOWDOWN: I've mentioned in earlier reviews that I found the female characters in the A Devil and Her Love Song manga to be mostly high-strung and/or crazy. Was my assessment correct? Perhaps, they were a bit tart, but I was being a bit misogynistic in the way I describe them.
Or perhaps, I've managed to confuse myself. As I read A Devil and Her Love Song Volume 9, I kept thinking that Maria and the other girls seemed to have mellowed. I enjoyed reading this volume; the romance and rivalries are fun and remind me of why I like reading shojo manga, which are comics for teen girls (apparently). I can say one thing: every time Maria seems to be at the edge of total happiness, series creator Miyoshi Tomori is ready with a character to mess things up for her heroine. Well, I'm ready for Vol. 10 because it's about to get hot in herrre.
POSSIBLE AUDIENCE: Readers who like their shojo high school romance tart will like the Shojo Beat title, A Devil and Her Love Song.
Rating: A- /10
Last Updated: January 24, 2022 - 11:00