A Devil and Her Love Song: Volume 8 manga review
By Leroy Douresseaux
April 19, 2013 - 16:22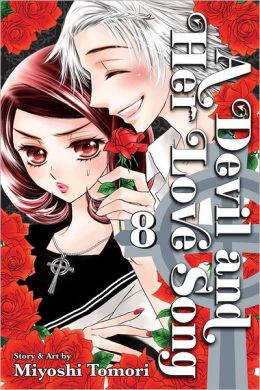 A Devil and Her Love Song Volume 8 cover image is courtesy of barnesandnoble.com.
Rated "T" for "Teen"
Maria Kawai was expelled from the prestigious Catholic school, St. Katria – because of her difficult ways. At her new school, Totsuka High School, the students find her frank nature more than just a bit off-putting. Maria's angelic singing voice catches the attention of two boys: the blond Yusuke Kanda, who wants to be everyone's friend, and the dark-haired Shin Meguro, a rebellious, sullen boy. Can they melt Maria's cold heart or will they end up being scorched?
As A Devil and Her Love Song, Vol. 8 (Chapters 48 to 54) opens, Maria struggles to understand why her former best friend, Anna, decided to leave Totsuka High and Japan in order to move to the United States. Another aftermath that confronts Maria is Shin. He has been acting strange towards Maria since she told him that she loves him.
Well, there is a new student at Totsuka High. His name is Shintaro Kurosu, and he seems to do as he pleases and to speak his mind. He takes a strong liking to Maria and decides to pursue her. He sticks to Maria, which makes Shin uncomfortable. Shintaro knows that, so is he enjoying Shin's discomfort.
THE LOWDOWN: In my early encounters with the A Devil and Her Love Song manga, I found the female characters to be mostly high-strung and/or crazy. The truth is that most of the characters in this manga are a bit tart, and even the guys are a bit outrageous and outlandish.
A Devil and Her Love Song is really a typical shojo high school romance, albeit with its own vibe and style. Like many Shojo Beat titles, A Devil and Her Love Song features highly polished art, but there is a graphic element about the series that really stands out. Creator Miyoshi Tomori is queen of pouting lips, and she is at least a duchess of emotive saucer-sized eyes. The art makes for storytelling with wide-open emotions, in which sentiments and passions are clear enough to grab the readers' attention (or stun them).
POSSIBLE AUDIENCE: Readers who like their shojo high school romance tart will like the Shojo Beat title, A Devil and Her Love Song.
Rating: A- /10
Last Updated: August 31, 2023 - 08:12