A Devil and Her Love Song: Volume 6 manga review
By Leroy Douresseaux
November 30, 2012 - 15:59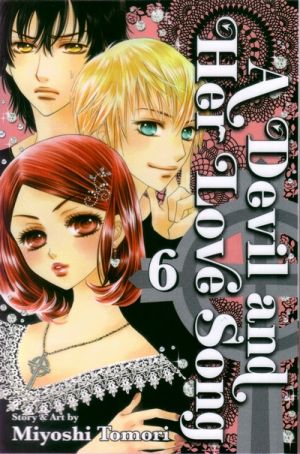 A Devil and Her Love Song Volume 6 cover image
Rated "T" for "Teen"
Her difficult ways got Maria Kawai expelled from the prestigious Catholic school, St. Katria. Things aren't going too well at her new school, Totsuka High School, where the students find her frank nature more than just a bit off-putting. Maria's angelic singing voice catches the attention of two boys: the blond Yusuke Kanda, who wants to be everyone's friend, and the dark-haired Shin Meguro, a rebellious, sullen boy. Can they melt Maria's cold heart or will they end up being scorched?
A Devil and Her Love Song, Vol. 6 opens as the school semester ends for the winter holidays and Christmas. Maria is working hard to blend her former best friend, Anna, in with her new friends at Totsuka. Anna wants more than just blending and has set her sights on a romance with Shin, the pianist boy Maria loves. In an attempt to make him her man, Anna tells Shin shocking secrets about Maria's past. After learning the painful details, will Shin ever be able to be close to Anna again?
THE LOWDOWN: In my review of the fourth volume of the A Devil and Her Love Song manga, I talked about the crazy girls in the series. They make this series fun to read, but author Miyoshi Tomori's art/graphical storytelling is what really sells this series. She draws the most expressive faces, and her eyes are a thousand words. Pouting lips and big eyes that are pools of torrents of emotion – this is quintessential shojo manga art. Get your shojo on with A Devil and Her Love Song. It's not quite the bad girls club, but there is some bad in these girls.
POSSIBLE AUDIENCE: Readers who like their shojo high school romance tart will like the Shojo Beat title A Devil and Her Love Song.
Rating: B+ /10
Last Updated: August 31, 2023 - 08:12