A Devil and Her Love Song: Volume 4
By Leroy Douresseaux
August 20, 2012 - 17:38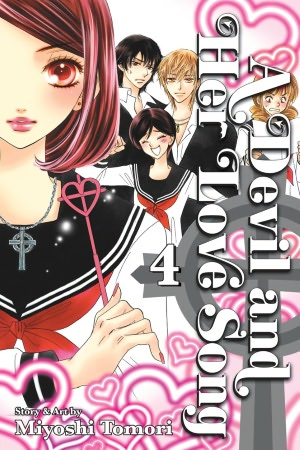 A Devil and Her Love Song Volume 1 cover image
Rated "T" for "Teen"
Maria Kawai was expelled from the prestigious Catholic school, St. Katria, because of her difficult ways. Things aren't going too well at her new school, Totsuka High School, where the students find her frank nature more than just a bit off-putting. However, Maria's angelic singing voice catches the attention of two boys: the blond Yusuke Kanda, who wants to be everyone's friend, and the dark-haired Shin Meguro, a rebellious, sullen boy. Can they melt Maria's cold heart or will they end up being scorched?
A Devil and Her Love Song, Vol. 4 opens just days before Totsuka High School's coral singing competition. There is a huge rift in Class 1-C between Maria and two other girls, Hana Ibuki and Ayu Nakamura. Hana is the popular girl who is the chorus' conductor, but she doesn't show much leadership, as she is always conniving. Ayu is in love with Yusuke, and seems to hate Hana as much as she loves Yusuke.
Meanwhile, Maria is trying to convince the antagonistic Ayu to be true to her feelings. At the same time, Maria is also trying to encourage Hana. But that only causes an even bigger rift between Ayu and Hana. Pranks, sabotage, crazy teachers, and spineless boys: is there a place for music in all this craziness?
THE LOWDOWN: A long time ago, I saw the Kevin Costner-Whitney Houston movie, The Bodyguard, with a friend who was also a fan of Houston's. After the movie was over, he said, "Man, all the black women in that movie were crazy." A few days later, I was talking about the movie to a pal who worked at a record store, and he said, "Man, all the sistahs in that movie was crazy."
Man, all the teenaged girls in the A Devil and Her Love Song manga are crazy. You might go crazy trying to keep up with all the back-stabbing, back-biting, plotting, and conniving. I wonder if creator Miyoshi Tomori is trying to depict these girls as dangerous, because I certainly consider them to be treacherous. Girls in shojo manga can be catty, but I like this series just because of the unvarnished bitchiness that Tomori presents. The feuding is fun to read, and although it gets a bit repetitive by the end of an entire volume, I'm curious about where this series is going.
POSSIBLE AUDIENCE: Readers who like their shojo high school romance tart will like A Devil and Her Love Song.
Rating: B+ /10
Last Updated: August 31, 2023 - 08:12