A Devil and Her Love Song: Volume 1
By Leroy Douresseaux
January 26, 2012 - 09:45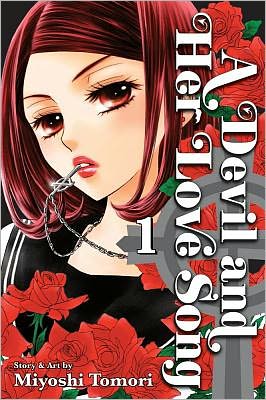 A Devil and Her Love Song Volume 1 cover image is courtesy of barnesandnoble.com.
Rated "T" for "Teen"
Maria Kawai was expelled from the prestigious Catholic school, St. Katria. The students at her new school, Totsuka High School, find Maria's frank nature more than just a bit off-putting. However, Maria's angelic singing voice catches the attention of two boys: the blond Yusuke Kanda, who wants to be everyone's friend, and the dark-haired Shin Meguro, a rebellious, sullen boy. Can they melt her cold heart or will they end up being scorched?
A Devil and Her Love Song, Vol. 1 opens with Maria off to a rough start on her first day at her new school, including some trouble on the train ride to school. Of course, she runs afoul of the catty girls, especially Tomoyo Kohsaka a.k.a "Nippachi." Maria gets into so much trouble that she needs Yusuke and Shin, but will they help her? Can they help her?
THE LOWDOWN: While I enjoyed reading it, I don't quite know what to make of A Devil and Her Love Song manga. None of the characters are really likeable, and one would expect at least the heroine of a shojo to be adorable and lovable. The characters are, however, interesting, but I'd like to read one more volume before I give this a grade. I can say that the art is as pretty as the prettiest shojo art out on the market today.
POSSIBLE AUDIENCE: Readers who like their shojo high school romance tart will like A Devil and Her Love Song.
Last Updated: August 31, 2023 - 08:12