The Action Figure - A Quick History
By Christopher Moshier
June 26, 2008 - 18:25
---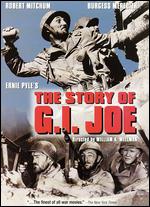 The Story Of G.I. Joe starred Robert Mitchum and Burgess Meredith.
The "moveable man of action" or what we know today as the "action figure" was the brainchild of Stan Weston based in part on a TV show called "The Lieutenant." Stan was a toy creator and licensing agent who brought his concept to executive Don Levine of the Hassenfeld Brothers Company. The action figure concept was derived from the marketing success that was the Barbie doll introduced by Mattel in 1959. Tin and plastic soldiers had been very popular over the years making the thought of a fully articulated man a worthy gamble.
The toy was conceived as a military man with different names for each branch of the armed services; Skip for navy, Rocky for the Army and Marines, and Ace the air force pilot. Fred Bruns, who headed Hassenfeld's ad agency, advised Don Levine to find one solid name to attach to the product. You can actually thank Robert Mitchum and Burgess Meredith for the help in naming the first action figure. Late one night, Levine was watching an old movie about war correspondent Ernie Pyle starring Mitchum and Meredith. The title of the film was "The Story of G.I. JOE."
TRIVIA: Burgess Meredith had a starring role in the 1987 animated G. I. Joe: The Movie.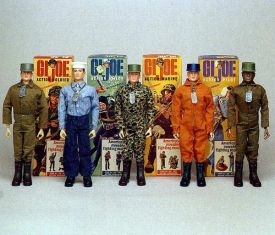 The four original 1964 G.I. JOE action figures released in 1964 followed by the black Soldier released in 1965.
In 1964, the first G.I. Joe action figure hit the shelves designed by Walter Hansen and Phil Kraczkowski. The figure itself was articulated in 21 places, had a scar on its face to distinguish it from being a "dolls", and had a manufacturing defect later used to protect against copyright infringement – the thumbnail was on the wrong side of Joe's thumb. G.I. Joe has had many incarnations and mock offs through the years underlining the figures sustainable appeal.
TRIVIA: In 1968, the Hassenfeld Brothers Co. changed its name to Hasbro.
The Mego Corporation was founded in the early 1950s by David Abrams and was mostly known prior to 1971 as a producer of dime store toys. It was the founder's son, Martin, who changed the focus of the company. After a failed attempt to copy the G.I. Joe trend with their Action Jackson figure Mego began purchasing license rights to a variety of successful franchises. Star Trek, Planet of the Apes, DC, and Marvel Superheroes were just a few of those famous properties. As G.I. Joe sales were slacking in the 1970s Mego ruled the action figure market.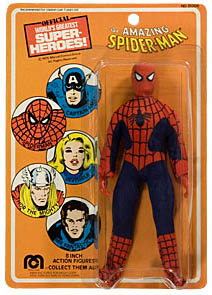 Mego introduced the "Bubble Card" that continues to be widely used to this day.
A big reason for Megos success was how they mass produced using interchangeable heads and costumes on generic bodies making a very cost affective product. Mego also constructed their figures primarily in an 8 inch scale setting an industry standard in the 1970s. But the biggest contribution Mego made to the action figure community was the creation of the Kresge style card (named for the Kresge store chain, for whom they were originally produced), now commonly referred to as the "Mego Bubble Card." This style of card placed the clear plastic bubble containing the action figure in the middle of the card – packaging that is closely emulated to this day.
In 1976, it was the beginning of the end for Mego when they rejected to license a deal for a science fiction movie being released called Star Wars. Star Wars became a merchandising juggernaut. Seeing the error of their ways Mego started buying up manufacturing rights to any and all potentially successful motion picture and television licenses that were available. Nothing ever caught on and with the competition introducing the next generation of action figures Mego closed their doors in 1983.
By 1978, the oil crisis led to a jump in the price of plastic, and G. I. Joe was among the toy lines discontinued in that year. To cut manufacturing costs a Japanese toy producer (Takara Co.) introduced a new standard with their 3 3/4 inch figures. In the same year Kenner Products began releasing a toy line based on the popular movie Star Wars. The line introduced figures standing (on average) only 3 3/4 inches tall. While detailing was crude, the toys were more affordable both to produce and to buy, and vehicles and other accessories were easier to design for the smaller figures.
TRIVIA: Kenner Products was bought out by Hasbro in 1991.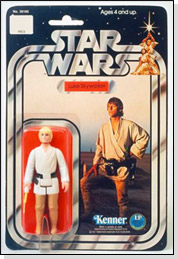 30 years later Star Wars continues to dominate the action figure market.
Star Wars dominated the toy industry for years also spawning off many copycats. It even helped resurrect the old G.I. Joe line in 1982 this time at a 3 3/4-inch scale. With the smaller scale a variety of matching vehicles and play sets expanded the appeal and commercial potential of the line. Backed with an animated cartoon and comic books the new line of G.I. Joe's became a merchandising success story soon to be repeated by other companies throughout the 1980s.
In 1983, federal regulations prohibiting the creation of children's programming based on toys were lifted. This opened a new era in action figures. He-Man, Thundercats, Teenage Mutant Ninja Turtle, Silverhawks, Transformers, Mask – the list is quit substantial. You may not recognize all the action figure lines listed, but they all had one thing is common – they were all based on a cartoon series. This practice of basing a cartoon on an action figure line became one of the largest marketing tools for toy companies being equally as true even today.
TRIVIA: In 1969, the FCC (Federal Communication Commission) prohibited television shows based on toy products.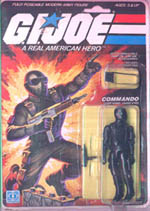 G.I. Joe returned as a "Real American Hero" in 1982.
In the late 1980s, the secondary market of action figure collecting began to become extremely popular. As the children who originally played with the first G.I. Joe, Mego, and Star Wars action figures began to grow older, take jobs, and garner an income their sense of nostalgia kicked in. Action figures weren't just about youngsters playing with a "moveable man of action" anymore. A whole new form of action figure collecting took shape with older teens and adults. These collectors didn't open the packaging or play with their action figures. These collectors kept their action figures unopened displaying them in some pristine fashion be it on a wall in a sealed protective bubble or in a glass showcase or just kept them packed away from the elements waiting for their item to appreciate in value. The toy manufacturers took notice of this new generation of action figure enthusiasts offering premium or direct market figures that, in most cases, only older collectors would be interested in and could afford.
Today, there is not one property or concept that an action figure producer would shy away from. In this age of merchandising and royalties anything and everything is fair game from comics to animation, from the adult industry to sports figures, from television to movies. There is such a wide range of licenses that people who wouldn't normally collect would pick up an Elvis Presley figure for their mother for her birthday or John Wayne for dad at Christmas. With such a broad audience smaller toy companies have sprung up over the past decade putting even the larger companies to task in quality and presentation. The action figure market is peaking. It will be interesting to see how it evolves from here.
---
Last Updated: August 31, 2023 - 08:12