Comics / Comic Reviews / Marvel Comics
X-Men Battle of the Atom #1 Review
By Andy Frisk
September 4, 2013 - 21:35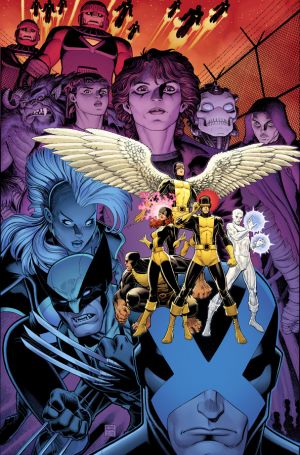 A new mutant with the the strange ability to create and/or channel monstrous beasts rages through Phoenix, AZ and the X-Men (the Jean Grey School faction) respond with the original X-Men, who are currently residing in the present courtesy of the present day Hank McCoy, in tow. When the age old ultimate enemy of mutantkind, mysteriously deployed Sentinels, show up and begin to kick the Jean Grey School X-Men's butts though, the other X-Men (the New Xavier School faction) swoop in, and the combined might of the two factions is more than enough to save the day. Unfortunately, Scott Summers (the younger) is killed and Scott Summers (the elder) is wiped out of existence...that is until Christopher Muse, a Xavier School member, uses his mutant powers of healing to bring Summers back. With the time steam nearly destroyed, the Jean Grey School X-Men decide that it is time to send the originals back to their own time. Young Jean and Scott have other plans though. To make matter worse, a another
future
team of X-Men materialize with grave warnings...
Time displacement X-Men stories have pretty much worn out their welcome over the years. It seems that there is a major "Days of Future Past" type of rehash every decade or so within the pages of the many X-Books. Telling yet another one takes a lot of guts...or in this case: talent. Somehow Brian Michael Bendis has managed to put a new spin on an old theme when he brought the original X-Men from the past to the present, and has managed to give X-Fans a real treat of a story. Watching the interactions between the young Jean Grey, Kitty Pryde, and the older Scott Summers has been nothing short of mesmerizing. The many Easter Eggs and quirky humorous episodes that Bendis has thrown in throughout the story are a real treat to long term X-Readers as well. Much like he did with The Avengers, Bendis is managing to reinvigorate the franchise by bringing it back to its most basic tenants, and Bendis' story, in many ways, is just beginning.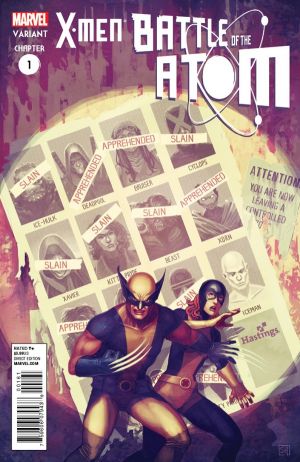 The All-Star artistic team of Franch Cho, Stuart Immonen, and Wade Von Grawbadger pull out all the stops and create some of the best looking versions of these X-Men we've seen yet, especially the elder Scott Summers. His new costume finally looks cool here. Their sense of anatomy, fight choreography, and background detail are also impeccable. Like Bendis does with the time travel storyline, these artists manage to breath new life into images that we've seen over and over again within the pages of the X-Books: X-Men battling Sentinels. Watching this team of artists bring to life the massive battle with the Sentinels on one side and both X-Men team factions on the other is, like Bendis' writing, a real treat to behold.
Recent X-Men crossover events have been nothing to get too excited about.
Schism
was pretty good.
Avengers vs. X-Men
wasn't.
Battle of the Atom
, based on the merits of the open chapter, is loaded with potential, and just might top them both.
Rating: 9.5 /10
Last Updated: January 24, 2022 - 11:00