X-Men Icons: Chambers #1-4
By Patrick Bérubé
June 27, 2009 - 07:20
I have to admit that I'm not really a fan of spin-off especially when they tie to a more popular series. That's why when I scour the back issue bin I quickly skip the X section in favor of the more Indy stuff. That's by sheer luck that I stumbled upon this mini-series by none other than one of my favorite writer Brian K. Vaughan. Well known for his recent run on
Y: The last man
,
Ex Machina
and
Logan
I was really excited at the perspective of reading his early work and to be able to see how it has evolved over the years.
Newly accepted in the X-Men, Jonothan Starsmore aka Chambers is sent undercover to Empire State University to find out who murdered some of the mutant students. Passing as newly accepted at the university, he will soon run in the dead mutants' old acquaintance, a group of Homo Superior revering Magneto's way and a lonely mutant girl. But who exactly committed the murder and why? Chambers will soon discover that first appearances can be deceiving and that thing are not always black and white.
Now the big question on everyone's lisp: does Brian K. Vaughan early work is as good as is more recent series? I will have to answer yes and no to that. Yes because it is probably it's best "mutant" work (except for Logan). I always felt that Mr. Vaughan wrote his creator-owned characters better but he does a decent job here at presenting us Chambers as a unique X-Man. It is not just a let's fight the bad guy and get out of here kind of story and I would not have expected less from one of my favorite writer. In fact, there is little action and everything is centered on the detective aspect of the plot and on character's development. Of course, the last page cliffhanger and the witty dialogues that have become some of Mr. Vaughan most easily recognizable aspect of his writing style are also present.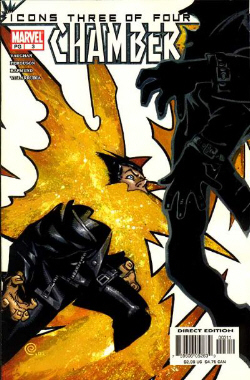 On the other hand, even if this is a good mini-series for a spin-off, I do feel like this is a rather simple story told in a maybe too complex way. Don't get me wrong, it is good but I feel there is a certain clumsiness as how the story evolves and how the cliffhangers are used. It is as if Mr. Vaughan was still experiencing and not fully developed as a writer which would be understandable this early in his career.
Visually, I have to admit that I almost have nothing particular to say about Lee Ferguson's pencil. When I first opened up the comic book, I was surprised at the quality of the art probably because I wasn't expecting anything from it except a peek at Brian K. Vaughan early work. This first impression soon changed and I quickly started not noticing the art at all which is a good or a bad thing depending on how you look at it. The minimal background did not help the matter and the dialogue-heavy scenario neither.
If you are a fan of Brian K. Vaughan, you should definitely start searching for this mini-series. Even if his inexperience shows, his writing style is easily recognizable and it is always a threat to read a very good writer's early works. X-Men completists should also be on the lookout for it since it is better than most spin-off of it's kind even if it focus on a c-list character.
Rating: 8.5 /10
Last Updated: April 9, 2021 - 22:22