Comics / Comic Reviews / DC Comics
Wonder Woman #26
By Hervé St-Louis
Jul 18, 2017 - 10:11
Wonder Woman is faced with people falling sick around her but there's little she can do as a bomb is about to explode at a wedding she's been invited to. Can she save the guests in time?
In a regular comic series, this issue would have been a sleeper issue. One where we explore the character's life and catch up on subplots involving the support cast. But for an issue that starts a new storyline, it was slow and if it wasn't for the threat at the end of the comic, one would not know that the writer is embarking on a major storyline. Still, the writing is good and Diana's characterization and that of her cast is sound. Just don't expect a lot of suspense and action this issue.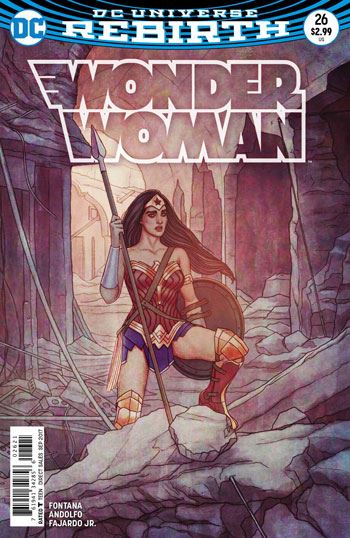 I will say that I was annoyed at the feminism in this issue. I'm not exactly sure what bothers me yet. I'm definitely not against feminism but this comic read more as girl empowerment than a comic with a strong lead. Many comics which seek female audiences are this way nowadays but they usually are from independent publishers. Part of the formula is to put down males. This comic has done a bit of that but not gone overboard yet in but I can sense that it will be one of those comics that I'd rather skip. There is a way to write strong female leads without feminism taken to an extreme. Greg Rucka hates my guts but he did manage to reach that balance to his credits.
Mirka Andolfo's art started out as pretty realistic and turned cartoony by the end of the issue. It's as if she was trying to prove in early pages that she could handle a super hero comic without falling for her usual tropes. But by the end of the comic, her work which is pleasant felt like one of those independent comics for women where all the characters look cuddly and with soft curves. I guess that Wonder Woman is going for a different audience. I will not stand in front of change and block it but I do realize that this comic is no longer for me.
Rating: 8 /10
Support this writer on Patreon
Last Updated: Jun 26, 2018 - 9:28