Wolverine's Best: The Uncanny X-Men #268
By Andy Frisk
May 2, 2009 - 22:17
The Uncanny X-Men issues of the early 1990's, scripted by Chris Claremont and penciled by Jim Lee, were some of the most popular, well written and drawn comic books of the time. Claremont seemed to have the perfect approach to scripting this band of mutants, and Lee brought a realism and detail to the book that spawned several imitators. In particular, issue #268, which centered on Wolverine, and revealed the first ever meeting between Captain America/Steve Rodgers and Wolverine, known only as Logan at the time, in Madripoor (Logan's East Asian stomping grounds), and their battle against the demon ninja clan The Hand to save a young Natasha Romanov (aka the future Black Widow), was one of the standout issues of a string of issues which would shortly introduce popular characters like Gambit, and spin off the Claremont/Lee series titled simply, X-Men. Even more importantly though, this issue would help lay the foundations for the popular stories focusing on Logan set in different eras, and his meetings with other seminal characters of the Marvel Universe. What makes this issue so great though, is Claremont's portrayal of Logan as a charismatic Indiana Jones type, complete with fedora and brown leather jacket, who has a penchant for insulting Nazis.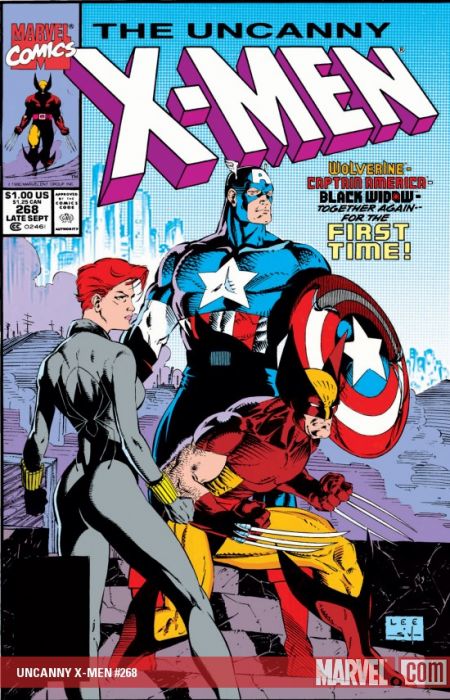 The classic cover.
As the story unfolds, Logan gets involved, and actually saves Captain America's life while he battles The Hand in order to recover Natasha, just a child at the time, from Baron Strucker, the soon to be head of HYDRA, the Nazi spinoff organization bent on world domination HYDRA will end up giving Captain America and Nick Fury, leader of SHIELD, headaches for decades. The issue flashes between this historical tale set in 1941 and the then present where Logan, now the X-Man Wolverine, Psylocke, Black Widow, and Jubilee, regroup in Madripoor to battle The Hand and Strucker's twin children. It is the story of Logan, Cap, and Natasha from 1941 that really stands out in this issue. It is a great example of the multifaceted character Claremont portrayed Logan as.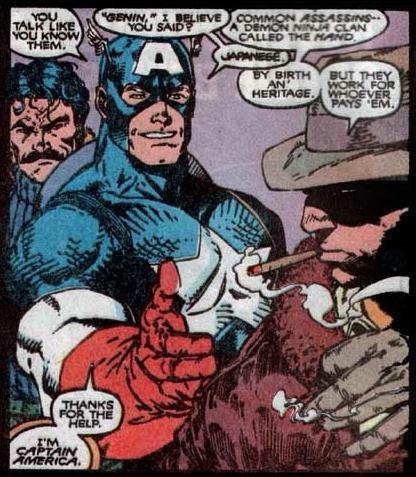 The greats meet, for the first time.
Basically, The Hand wants Natasha, a child with a gift for martial arts, to be raised up to take the role of their master assassin, and Strucker has kidnapped her for The Hand. Captain America and Russian operative Major Petrovitch, who Natasha was in the care of, travel to Madripoor in order to rescue her. Logan gets involved for rather mysterious reasons (which ended up being elaborated upon by later writers with the effect of simply creating a confusing, complicated and overwritten "origin" for Logan), which he rationalizes as, "figured any enemy of theirs (The Hand)… is a potential friend of mine." Of course, Logan and Co. rescue Natasha, and the unfolding of her rescue makes for a great read, and is one of the best Logan/Wolverine stories of all time.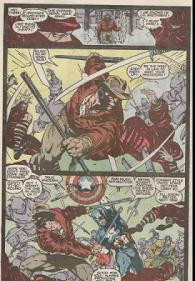 Lee's pencils recreated in all their pulp glory.
While the story has all the darkness, violence, and death that most stories focusing on Logan do, it also has some great moments of humor and, like another famous adventurer's tales Logan dresses similar to, i.e. Indiana Jones, a light hearted feel. Logan is a completely confident fighter who wades into the action with great ability that backs up his swagger, and he is full of wise cracks. After saving Cap from certain death, the two introduce themselves. In response to Cap's introduction of himself: "I'm Captain America," Logan responds, "Do tell. I like the suit. Just the thing for playin' it sly and sneaky." "That isn't my style," explains Cap, "I'm supposed to be a symbol." "Never met one'a those before. Me I'm just a guy. Name's Logan," he retorts. Later, the three, Cap, as Steve Rodgers, Petrovitch, and Logan regroup at a local bar named "Seraph's" after its proprietor and Logan's obvious friend, later revealed by other writers to be part of Logan's aforementioned complicated and confused past. She is his operative assassin trainer boss, or something or other. While returning from the bar, Logan "accidentally" crashes into Strucker, spilling his drink all over him in order to pickup his scent for tracking him down later. Logan obviously enjoys taunting the arrogant Nazis, responding to Strucker's demonstration of horror at being "soaked" with, "'Scuse me all to heck!" and to Strucker's stooge's proclamation that, "This is a respectable establishment!" with "Yup. Till the let you goose-steppers in." Later on, after getting gunned down by Strucker while saving Natasha's life, and seemingly killed before Petrovitch's and Cap's eyes, Logan turns back up just in time to save them, once again, from the clutches of The Hand. To the astonishment of Cap and Petrovitch, he responds with the classic line, "I got better." Finally, at the end of the tale as they rush across an airfield in order to get Cap, Petrovitch, and Natasha out of Madripoor, Cap remarks that they "work pretty well together…a shame to break up so potential a team." Logan responds, "Appreciate the thought Cap. But I work alone. Don't need a sidekick," to which Cap stutters, "Actually…ahem…I meant…er…as my—well never mind. Perhaps it's for the best. Take care Logan."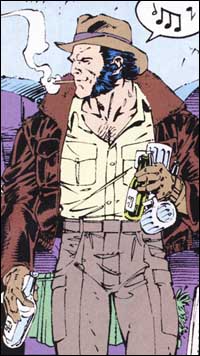 Logan getting ready to "accidentally" bump into some Nazis.
It is this mixture of Indiana Jones-like adventure, action, and humor with an edge to it, that makes this issue, centered on Logan, so great. Throughout the years we've seen Logan and his tormented lives, filled with memory gaps, abuses, etc. etc. but this Logan, the Logan of The Uncanny X-Men #268, is an example of perhaps the best and most well rounded characterization of him in his long history of characterizations at the hands of many, many writers. He's the tough, take no prisoners, not afraid to kill, tormented, dark type with a temper, but he's also a man who is in control of himself. He knows how to unleash the animal when needed, but also how to make the sacrifice of himself to save the lives of the innocent when necessary. In short he's a hero. He's a mature character with an edge, AND a heart. He is the character I enjoyed reading about the most in the pages of The Uncanny X-Men, and in his own series. He's also the character that Hugh Jackman captured quite accurately in the three X-Men films, and in the X-Men Origins: Wolverine film. Finally, he's the character I wouldn't mind seeing more of in the future, regardless of what the critical response to the film is.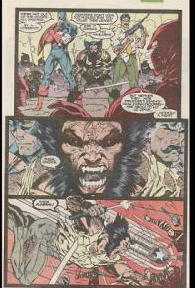 More of Lee's great work.
Overall, if you're able to track down this classic Logan tale, by all means do. It's a back issue that runs a little high, but great reading copies can be found in dollar bins. I managed to pick up a slightly damaged, but wholly intact, and worthily readable copy just recently, to go along with my "near mint", bagged and boarded copy, that I must admit, is well-read as well. It's a great tale about a great character, and captures the essence of what Logan should be.
Rating: 10 /10
Last Updated: March 10, 2022 - 22:00