Wolverine's Best: Wolverine Vol. 2 #10
By Andy Frisk
May 5, 2009 - 22:07
Wolverine's first ongoing solo series was an interesting one in its early going. Taking place during a time when the X-Men were "dead," Logan, aka Wolverine, was hanging out in Madripoor, his South Asian stomping grounds, "disguised" as Patch, a local adventurer. It turns out that he was fooling no one. No one was willing to call him out though. Would you want to be the one to tell a mutant with a short temper who has adamantium claws, "Dude, the eye patch thing, well…it's a terrible disguise." 'Nuff said. Anyway, issue #10 is another one of those great issues that takes place "now" and "then" much like The Uncanny X-Men #268, also another one of Wolverine's Best stories, does, switching back and forth between two stories that relate to one another.
The common threads between the two tales in Wolverine Vol. 2 #10 are Saber-Tooth, and the fact that they both take place on Logan's birthday. In the "then" story, Logan gets into a brawl with Saber-Tooth after discovering his lover, Silver Fox, murdered by his claws. Throughout the battle, Saber-Tooth, who at this point is the much better and experienced fighter than Logan (who has yet to obtain his adamantium skeleton and claws) both drop many cryptic hints about a shared history, and how Saber-Tooth, "…always helped himself to what ever was mine, challenging me to stop him." The battle ends with Saber-Tooth having the upper hand, but he refrains from dealing Logan the final blow, leading to many more confrontations. In the "new" story, Logan is nearly gunned down by two brawlers he broke up a fight between, in a bar, earlier in the issue, but before he can take them out, Saber-Tooth kills them, leaves them gift wrapped for Logan with a card stating, "Nobody kills you but ME-Especially Today!" to which Logan mutters, "Not bub…if I get you first!"
This final issue of Chris Claremont's run on Wolverine Vol. 2 became an instant classic because of the tantalizing, though not clearly revealed, newly developed, and highly plausible, link between Saber-Tooth and Wolverine. Were they father and son?, brothers? or maybe ancient enemies? Saber-Tooth had to be as long-lived as Logan, since they both were kicking the snot out of each other, but looked the same "then" and "now." This writing approach of Claremont's was what made The Uncanny X-Men and Wolverine such great reads back then. Plenty of ideas were developed and hints dropped, but the mystery was not solved nor were answers revealed, at least not right away. This new linking of two popular characters in a relationship that wasn't defined, but definitely abounded with ill will, and plenty of mutant healing factor fueled marathon scraps, was golden for Logan's mythos.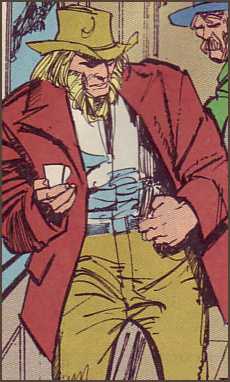 Saber-Tooth enjoying a "tasty beverage" just before trouncing Logan.
Later on though, as several writers started adding their own ideas into the bubbling melting pot that would eventually comprise Logan's confusing and at times conflicting origin stories, this tale would at one point be considered as a "false memory implant," then to have really happened, at least the love story aspect of Silver Fox and Logan being together, and from Silver Fox being dead to being alive and a part of the Weapon X program and an agent of HYDRA, or some thing or other. Finally, the story of the love between Silver Fox and Logan would be used as a major plot thread in X-Men Origins: Wolverine to pretty good effect.
Perhaps that's why I like Wolverine's leap to a solo movie (movies, hopefully) like I do. It seems to take some great ideas, like the one cooked up by Claremont in this issue, and bring them to fruition on the big screen in a way that is not nearly as convoluted, and at some points, just plain silly, as his comic book origin continuity has become. Wolverine Vol. 2 #10 was and still is a great story with all the elements that make readers want to come back for more. It's a shame Claremont didn't finish what he started, but at least some of his ideas lived on in his most well written character on the big screen.
Rating: 10 /10
Last Updated: April 9, 2021 - 22:22