Why I Killed Peter
By Andy Frisk
June 15, 2010 - 21:50
Oliver Ka's parents were libertines. His grandparents were devout Catholics. Oliver himself is a culmination of contradictions and confusions that the conflicting messages of his grandparents and parents produced. Oliver found a bit of solace and perhaps some middle ground amongst his beliefs and conflictions through his friendship with Peter, a "liberal priest" who's "cool…funny" and "like a regular guy." To Oliver it's like he has a "new uncle. A great one who laughs, who sings, who tickles." One night at Peter's summer camp, when Oliver is only 12 years old, changes everything though. Peter becomes more than Oliver's "new uncle." He becomes his abuser.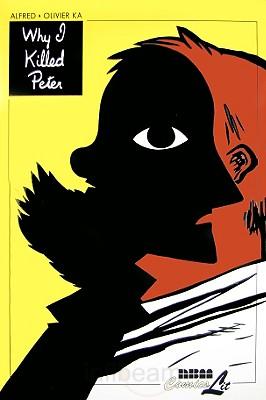 Sadly, an abusive Catholic priest isn't a literary or fantasy invention of Oliver Ka's in Why I Killed Peter designed to advance and enhance the story of a young man's struggle with his parents, his grandparents, his religion, his burgeoning adolescence, sexual maturity, and adulthood. Why I Killed Peter is an autobiographical graphic novel. The story of an abusive Catholic priest and his effects on a young man's life, also sadly, isn't a rarity in the real world. This unfortunate fact is an aspect of why Why I Killed Peter is such a dramatic and relevant work that is worthy of publication by NBM under their Comics Lit moniker. The execution of Oliver Ka's tale through its words and images is another, but much more powerful, aspect of why comics and lit even deserve to be uttered in the same sentence. Why I Killed Peter is easily a perfect example of "comics literature."
Oliver, or Ollie, as he is called for most of the tale, had some pretty confusing theories on life, love, and happiness thrust upon him as a child, but nevertheless dealt with all of the conflicting messages pretty well, and was well adjusted as a youth. His mother, in particular, was open to his questions and quite liberal with the way she allowed her young son to be self explorative of life's big questions like organized religion, relationships, and whether or not to believe in God, mostly through the example of how she and Ollie's father lived their open relationship life. Overall, Ollie ends up being mature beyond his years, open minded, and emotionally well rounded until one night when everything in his life is turned upside down. He is sexually molested by the man he looks up to and who has brought so much joy into his life, Peter.
For years after the incident, which Peter makes Ollie promise to keep as "our secret," Ollie continues to be friends with Peter and even continues to attend Peter's summer camp. Ollie has told no one about the incident, and he has tried to rationalize it away as unimportant and insignificant in the overall scheme and events of his life and friendship with Peter. It isn't. He is forced to deal with Peter's abuse of him eventually, and it's a long and difficult road for Ollie to plow on the way towards making peace with himself and with what happened. Throughout Ollie's life he has relationships that invariably succeed and fail, and he finally forces himself to expel all of the hurt, anger, and resentment through the writing of the very graphic novel which we are reading. His friend Alfred agrees to illustrate it and a piece of comic lit art is born.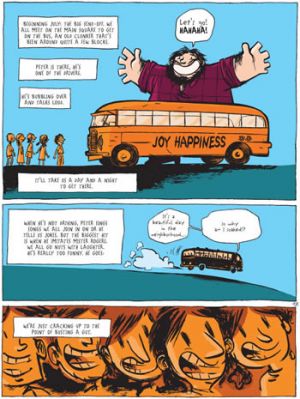 Alfred's style is very simple and somewhat minimalist, but he captures Ollie's emotions and state of mind brilliantly as only a sequential artist can through his work. Ollie's childhood imaginings and visualizations of Hell, inspired by his grandmother's version of it, are masterful. They fully capture a young child's shadowy ideas of the demons swirling around his bed as he feverishly tries to sleep. Alfred captures Ollie's various states and stages of happiness and frustration strikingly as well. The image of Ollie's red face, his eyes replaced by the spinning wheels of a bicycle as he strives to keep up with Peter's camp group as they pedal the three day trek to the beach, is incredible in its ability to communicate Ollie's state of mind, as well as his physical state. The horrific abuse scene, which is not graphic at all, but dark, sketchy, and heavily shaded is all the more horrifying because of its sketchiness and darkness. It's oppressive and heavy and very emotional. Perhaps the most powerful artistic portrayal in Why I Killed Peter is Alfred's portray of Peter himself. He's friendly, wide eyed, joyful, and burly in a sort of Santa Claus-like way. Most of all he's huge, at least in Ollie's young eyes. He's the kind of huge that's inviting, like a big roughhousing uncle should be. His size though becomes an oppressive weight during, just before and after the abuse though that seems inescapable and overbearing. At the end of the graphic novel, when Ollie sees Peter one last time when Peter is an old man and Ollie is 34 years, the meaning of the novel's title becomes clear visually. Ollie's image of Peter, constructed in Ollie's mind and built up over all the intervening years has been killed. Ollie himself has killed the Peter in his mind by confronting and seeing what a small man Peter really is both physically and spiritually.
Why I Killed Peter demonstrates the unique power of sequential art to portray and animate the inner workings, imaginations, joys, and terrors of one man's mind, and the consequences that the evils of sexual abuse can induce in the in the mind and life of the abused. Why I Killed Peter doesn't dwell upon the act itself, or even the perpetrator, both to its benefit. The autobiographical graphic novel focuses on Oliver Ka's long road to emotional peace and stability that can only come from a difficult but necessary facing of what happened and the killing off of the part of himself that he allowed Peter to eventually grow into.
Rating: 10 /10
Last Updated: September 6, 2021 - 08:15