Comics / Comic Reviews / Marvel Comics
Ultimate Spider-Man #126
By Zak Edwards
September 26, 2008 - 00:14
Hey, remember when the Ultimates were awesome? When they were hard-hitting and bad-ass and not even actually good people? Brian Michael Bendis does. It's ironic the best depiction of the Ultimates this week doesn't come from Ultimates 3, but the latest issue of Ultimate Spider-Man, which also happens to be pretty much the only reason to be reading anything within the Ultimate Universe. It's probably no big secret Ultimates 3 isn't the best Ultimates story, but enough about that series, which ended this week (Thank goodness, last one, I promise). Ultimate Spider-Man drops slightly in quality this week, not because of any effort on penciller Stuart Immonen's part, but mostly with writer Brian Michael Bendis' pacing. Still, a less than stellar story from this series is better than most super hero comics going right now.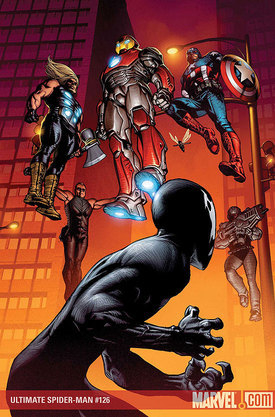 The problems with this issue happen throughout. First off, over half of the issue is dedicated to the Ultimates pounding the crap out of a recently reunited Spider-Man and Venom symbiote. Without Spider-Man's funny dialogue, which has been replaced with the repetitive and now cliche "Hungry" and "Feed" (no less than 15 times, might I add), the sequence tires fairly quickly. Don't get me wrong, the battle between Spider-Man and the Ultimates is full of high-flying action, mostly due to Venom's nasty habit of throwing adversaries the length of multiple city blocks. It's just a relief the story progresses after. The fight becomes bittersweet as the dialogue between Aunt May and Peter Parker is rushed and very surface considering the changes their relationship has endured since he revealed himself to be Spider-Man. She is still funny and a very strong female character, but two very crammed pages doesn't feel like enough. Also, the fact Peter Parker wakes up after such an epic battle with the Ultimates while in the Venom suit and he seems to wake up with little more than a glorified hangover is just strange and unbelievable. So I suspect this will play a bigger role in the issues to come as Bendis plays off this unblelievability. The final conversation between Peter and S.H.I.E.L.D director Nick Fury is a bit of a broken record as well. I've read this conversation before and therefore feels like a waste of space.
Stuart Immonen's pencils continue to be great. He is starting to nail the emotional aspects of the characters, adding to those parts of the series. Seeing Aunt May in an old, ratty Led Zeppelin t-shirt and rubber gloves shows so much of who she is. But Peter is only in three pages of the issue, the rest is Spider-Man, and with Spider-Man comes awesome action sequences which are always a treat with Immonen. The two-page spread of the Ultimates bringing the hammer down (literally in Thor's case) is amazing, as is the panel of Captain America with his hands in Venom's neck. The sequences flow and work so well.
7/10 Still great, just some pacing issues and a bad final 'talk.'
Last Updated: January 24, 2022 - 11:00