Comics / Comic Reviews / Marvel Comics
Ultimate Spider-Man #125
By Zak Edwards
September 2, 2008 - 22:18
So it's time for the new Ultimate Spider-Man and Bendis has produced an issue which has left me conflicted. It was entertaining, I enjoyed reading it, but I can point out aspects of the issue which aren't up to Ultimate Spider-Man's usual great quality. So really this issue boils down to aesthetic reasons for me. It's good because I enjoyed it and the escapism quality of superhero comic books was at the forefront.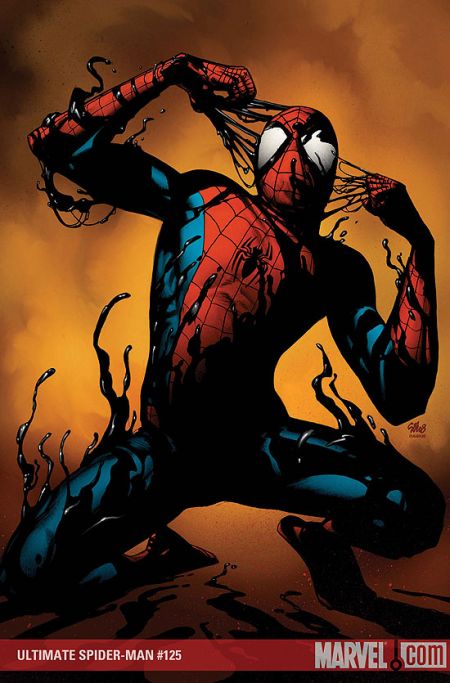 I think Bendis realized the Ultimate Spider-Man video game did not do as well as he thought (hence no sequel) and this meant he would have to catch people up on what happened more than originally thought. Therefore, for those who have played the game, which only takes a few hours as it's fairly short, much of this may seem like deja vu. But some classic Spider-Man wit, like "Good guy here!! Bad guy there!!", work very well and contribute to the overall me enjoying the issue thing. The Beetle remains a silent mystery, as does his purpose, but because of the closeness to the plot of the video game I have a feeling I know what will happen. Action ensues, and Bendis does a clever mirroring of Spider-Man's fight with the Beetle earlier in the arc with the fight between Venom and the Beetle. The action scenes work great again, even with a noticible absence of the title character until the very end, just in time for a cliffhanger ruined by the cover of the issue. So a few things I disliked, but I still enjoyed the issue.
The art is still amazing and it is difficult to see another artist doing as good a job as Immonen when it comes to the pencilling. He cannot express emotion to the level Bagley did, but his action sequences more than make up for this. Maybe it was just the setting of the single scene of Peter Parker and not Spider-Man, but Immonen has simply begun to shade things heavier. It works for the most part, but can come across as too moody and also covering up. But a single look at Venom growling at a police officer wipes these thoughts away.
7/10 I liked, I really did. But some things annoyed me.
Last Updated: May 19, 2020 - 12:25