Comics / Comic Reviews / Marvel Comics
Ultimate Spider-Man #120
By Zak Edwards
March 28, 2008 - 13:44
Ultimate Spider-Man #120

So this issue was not what I was expecting. Instead of an issue long fight between Spider-Man, Magneto, Liz Allen, and Iceman, Bendis took the more difficult route of an issue of talking heads. Bendis chose dialogue over action for a great pay-off, continuing to make Ultimate Spider-Man a wonderful series to read every month. Stuart Immonen also continues to not only draw an amazing book, but consistently keep up with a quick schedule.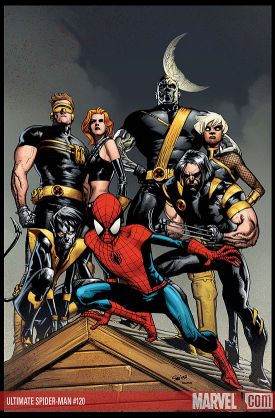 The comic is filled with many smaller fight scenes, but these are quickly used as a means to move the story from conversation to conversation. One great aspect Bendis brings to this issue is how Magneto is much above the power levels of Spider-Man, Iceman, and Liz Allen. Magneto could defeat all three of them without blinking and this fact dictates the entire issue. Magneto is shown as an antagonist, but one who is approaching a situation with calculation and an unwillingness to hurt innocent lives. It adds a dynamic to the comic. The smaller fights mentioned are not initiated by him, but they are kept quick and small by Magneto's suppressing the heroes' attempts. It is interesting to see the 'good guys' initiating the fighting, attempting to use violence to get their point across while Magneto seeks only a dialogue with Liz Allen. Bendis also captures Magneto's ability with language, manipulating both reader and the characters within the comic book. This use of Magneto as a calculating recruiter rather than an overtly evil man reflects on to all the 'heroes' present in this issue. Bendis could have easily made an issue-long fight sequence that could have done the usual Ultimate Spider-Man story, filled with plenty of witty dialogue and that could have been highly enjoyable. Instead, Bendis used this issue to forward his characters and the perceptions of both the characters and readers. The line between good and evil is blurred, which is not entirely original, but interesting nonetheless when done with this amount of grace.
Stuart Immonen works with the script very well as usual. While this issue does not raise the bar of his work in any way, his work has not declined either. Immonen's two-page spreads are more effective now, as is recognizing characters that look very different from Mark Bagley's. He continues to do his work on time and with consistent quality.
8.5/10 Bendis takes the hard road with great success, challenging his 'heroes' perspectives.
If you have any comments or complaints, feel free to e-mail me mature responses to zak@comicbookbin.com
Last Updated: May 19, 2020 - 12:25