Comics / Comic Reviews / Marvel Comics
Ultimate Spider-Man #124
By Zak Edwards
August 2, 2008 - 22:32
Hopefully everyone reading this will relate to the following. When I go and pick up my comic books every Wednesday, I eagerly look through my file to see what I will be reading for the rest of the day. Okay, I go to the Diamond Distributors website every Monday to see what I'm getting but regardless, Ultimate Spider-Man day is a great day. This series is the one I look forward to the most in terms of high flying fun. I mean sure, I picked up The Core, written by the amazingly complex Jonathan Hickman, this week, but that probably won't make me laugh and have some good old high-flying adventure fun the same way Brian Michael Bendis seems to make me smile every month with his baby project. Ultimate Spider-Man has been consistently amazing for so long now, the issues preceding the Clone Saga almost seem like a distant nightmare; on the fringe of reality with a general 'I remember but it couldn't have actually happened' air about it.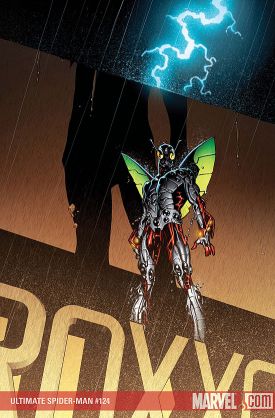 And so Bendis continues not to disappoint, with the War of the Symbiotes arc is under way after a couple of one-shot issues and the less than amazing issue last month to kick things off (but that issue was still good, it's all relative). The issue has everything this series has come to be known for, highflying action sequences which balance cool fighting with funny dialogue, some teen drama, and continued high quality and great characterization. The issue is bookmarked with a scene taking place a few weeks ago of Eddie Brock, the host of the Venom suit, being apprehended by mercenary Silver Sable and her group of morally lacking lackeys, but the middle is composed of a couple of days in the life of Peter Parker and his battle against super-powered villains, a part time job, and the internet. The battle is with a character who showed up in the Ultimate Spider-Man video game released about three years ago and is literally overflowing with laugh out loud antics. This fight is seriously hilarious, with Spider-Man displaying some classic slapstick combined with some very funny one-liners. The combination works great, your reading can't keep up with all the jokes. The Peter Parker side of things are pertaining to Spider-Man's latest 'exposure' on the internet, with Mary-Jane right there ready to make fun of him while supporting him all the same. It's simultaneously funny and endearing to see these two together as the two characters play off each other in such a believable ways. The story seems to be in a strange place chronologically, probably taking place before the arc involving Liz Allen and Magneto as Nick Fury has a cameo, complete with all his Samuel L. Jackson cool. The issue has three different events which Bendis excites readers with as he builds this arc up. It becomes a grander story, and it will be quite the ride.
Stuart Immonen plays his strengths this issue while some scenes suffer. He has always excelled at the action sequences in this title, bringing more energy to Bendis' already hyperactive scripts and this issue is no exception. The fighting sequences remain tons of fun to watch and I am especially enjoying Immonen's Venom with all his tentacles everywhere. HIs backgrounds are great during the fight with the Beetle, with Manhatten at sunset looking very pretty as Spider-Man keeps popping up to annoy the silent perpetrator. But for the scenes without the masks, the emotional side just does not register in his pencilling unless extreme close-ups are used. Faces seem bland and with contortions from farther back, but up close his expressions instantly seem cleaner. Unfortunately, it doesn't work, but the action sequences make up for this as there is much more Spider-Man than Peter Parker this issue.
8.5/10 Continued excellence.
Last Updated: August 31, 2023 - 08:12