Comics / Comic Reviews / Marvel Comics
Ultimate Comics: Spider-Man #2
By Zak Edwards
September 9, 2009 - 13:04
As the longer named version of Ultimate Spider-Man continues, writer Brian Michael Bendis introduces his audience to even more aspects of the changed world following the six months after the Ultimate wave destroyed New York. While the last issue affirmed the major status quo of Ultimate Spider-Man is continuing, both in terms of tone and style, Bendis is also using this time to allow for some changes as well. While the bulk of this issue deals with Spider-Man battling a mother-daughter team of super-powered jewel thieves, the stories surrounding this main encounter make room for some serious fun and intrigue.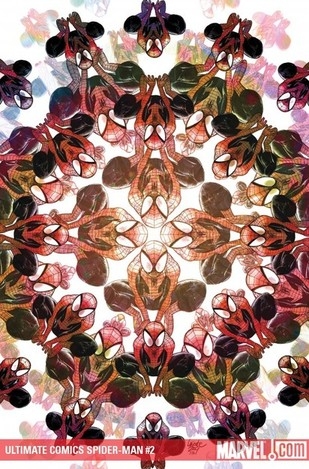 Peter Parker returns to his high school, Midtown High this issue and with it, much more of the supremely well-rounded supporting cast. While it seems Peter and Mary-Jane were not the only couple to break up, Kitty Pryde (Shadowcat of Ultimate X-Men fame) and Kong are no longer together but it seems the both have changed a fair bit. Kong has gone punk, complete with mohawk and leather jacket, but seems to be coming more into his own as he stands up for Kitty against a stubbornly the same Flash Thompson. Kitty, however, has become a social outcast in the wake of new developments against mutants in the new regime. While mutants have been used as a metaphor for almost every oppressed group in history (notably now to be taking a stance for LGBT groups in regular continuity, with a famous move to San Francisco and questions concerning the right to raise children), Bendis is using Kitty's powers to discuss the misunderstood social outcasts of high school interactions. Kitty will be a character to watch in the coming issues as her newfound aggression and the prejudice against her will be coming up frequently, I suspect. Readers also get another glance at Mary-Jane, who is still with the school paper. The re-introductions of these character dominates the issue not in length, but in content. The majority of the issue is dedicated to Spidr-Man's fight with a mother daughter team of jewel thieves, which on the surface appears to have little to do with the main storyline involving Mysterio. While this is yet to be proven either way, it does give the opportunity for artist David Lafuente to show off his ability at action sequences. Whatever becomes of these female villains, the larger picture is still dealt with a little. Bendis is weaving multiple threads in these two issues, with Mysterio's shocking apparent murder of the Kingpin and a mysterious Red-Cloaked character fighting crime as well. Basically Bendis is setting this series up for the long haul again, with some large amounts of forward thinking which can only benefit the series in the long run.
Artist David Lafuente must have taken the perfect circular head of Spider-Man comments to heart as Spider-Man is sporting a much less perfectly circular head this issue. It has some figure to it. But this was the only complaint I had for his art, which is able to handle all aspects of the series. His action sequences are fun to read and very high energy, his comedic scenes offer a slightly cartoonish look while not going to extremes while the more dramatic moments have more than enough expression to really nail the mood and feelings of the characters. He is a very well-rounded artist in this respect and more than capable of drawing whatever Bendis needs and drawing it well, a gift which can only help a series like this. And now that Spider-Man's head is under control, there's nowhere to go but up!
8.5/10 Ultimate Spider-Man, no matter what the name, continues to be one of the best super-hero reads in the industry, and also has solid art to back it up.
Last Updated: February 5, 2023 - 09:06