Comics / Comic Reviews / Marvel Comics
Ultimate Comics: Avengers #2
By Zak Edwards
September 16, 2009 - 23:55
Maybe I'm reaching, maybe I'm not, but the history of the Ultimate version of long-time regular foe of Captain America, the Red Skull, was seeming too much like the story of Osama bin Laden for me; which, as a person who is not an American, makes me very excited. Basically, to ruin the plot for you if you haven't read the latest installment of Mark Millar's return to the Ultimate Universe, the Red Skull is the illegitimate son of Captain America, better in every way than his father because the American government trained him in all ways warfare until, of course, the gut killed an entire military base where he was kept only to then remove the skin on his face to give him, well, his namesake. But why does this make me excited? Well, because the only thing lacking in the first issue of this series was the poignancy of the original Ultimates run.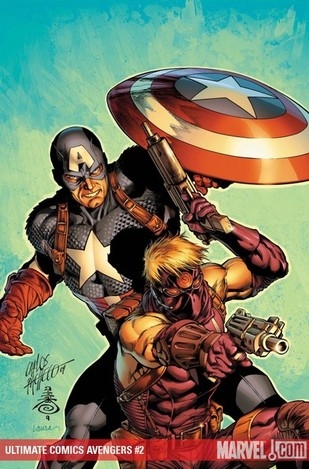 For those in the dark, one common theory about Al-Queda member widely recognized terrorist Osama bin Laden was trained, in an indirect but very relevant way, by the CIA during the Cold War as one of the many ways of engaging the Russians without actually engaging with them. This worked great until their creation managed to (at least take credit for) ram a couple of airplanes into a couple of buildings in New York almost exactly eight years ago. Therefore, the origin of the Red Skull is very familiar. And for those who do not care for such things, writer Mark Millar also manages to jam-pack the issue with plenty of action (like Captain America running a plane into the water) and espionage politics (like fugitive Nick Fury, former boss of the Ultimates, being invited to create a black-ops team to get Captain America back). And yes, this does sum up the entire plot of the issue, but there are elements of this story which readers can look to as a return to form for the Ultimates. The action is uproarious, necessary to the plot but still overdone in a way Millar and very few other writers can get away with, the social and political awareness is back and put into use right away. Millar is back, but more importantly, Ultimates is back, and forget Ultimates 4, this is the original and best.
I have to say, while some of the things in the issue do not make a lot of sense, like Gail's hair going from long and seductive when her and Captain America are about to get it on to short and cropped (on a noticeably older Gail, despite only a month passing) when in front of a government man; the art of penciller Carlos Pacheco works very well in the series. I noticed especially this issue a certain fondness for Captain America's dirty fighting style. He throws coffee on people, straight up kicks Hawkeye in the face with both legs, and leaves a plane to fly straight into the ocean. There's flair and it's amazing for the fifteen year old boy trapped inside this reviewer.
8/10 With its poignancy back, Ultimate Avengers returns the Ultimates to a place of importance in a sea of irrelevant and identical super-hero books.
Last Updated: January 24, 2022 - 11:00